What do you believe to be the biggest factor in being a successful company?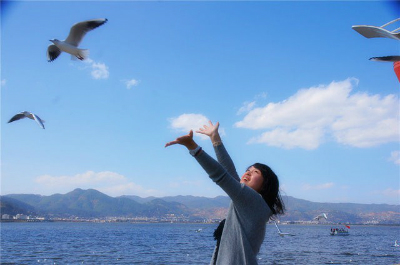 Wang Zhaoyang: I believe a company's success cannot be measured by just a single factor. There are more factors that need to be taken in consideration in order to know if a company is successful or not. If you combine factors such as profitability, customer loyalty, competitive advantage, longevity and employee morale you can start to gain a clearer picture of how successful a company is.
You can also analyze the impact a company has on their employees and customers when considering a company's success. Another crucial factor for a company's success is the quality of its management. Having experienced managers will not only lead a company through tough times, but they can also provide mentorship for the future managers.
What country have you always wanted to visit?
Wang Zhaoyang: I would really like to visit Japan. For me Japan is the country of opposites and paradoxes. A country that combines the high-tech future with their traditional past: Robots and Geisha, big cities and miles of pure nature. I think this would be a truly fascinating place for me to visit being a fan of both extremes; I love big cities and the downtown atmosphere but also enjoy the peace and quiet you find in nature. In Japan there are so many different places to go, for example a big city like Tokyo or a smaller calmer city like Kyoto. If I am able to travel to Japan I would like to visit the Himeji Castle, the Mt Fuji, the Itsukushima Shrine or the Tokyo Tower. I would love to visit Japan during spring to see the beautiful cherry blossom. Another important factor for me is the Japanese food -- not just Sushi.
What about the future of the industry? How do you think study abroad and international education will change over the next 10 years?
Wang Zhaoyang: I think that knowing different languages and having experiences abroad will become more and more important over the next 10 years. Experiencing international education has a huge influence on a student's world view, career path and also self-confidence. Having a study abroad experience can also enhance your chances for finding a good job. Someone taking the initiative of studying abroad not only says something about your academic achievements, but also about your personal ambition and determination. More and more companies are seeking out culturally aware and experienced employees who can work effectively in an increasingly global workplace.
What language have you always wanted to learn and why​?
Wang Zhaoyang: I always wanted to learn Italian. The sound of this language is very smooth and it sounds a bit like Italian people are singing while they are speaking. The only thing is that not too many people speak Italian, which is a pity. I also think that it is not too difficult to learn when you already know English. The grammar is similar and the pronunciation is not too different. I hope to find a language partner that I can practice Italian with and in the same time learn more about Italy's history and traditions.