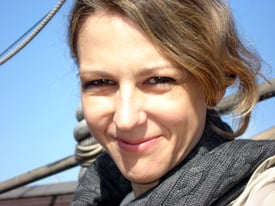 Did YOU study abroad?! If so, where and what inspired you to go?
Alexandra: While I was born in Rome, arguably the most beautiful city that comes to my mind, I always felt that a one-sided education was not enough to get ready for today's world. I needed to get out of Italy, experience other lifestyles and satisfy my curiosity. So I went to Germany, where my mother comes from, and then to University in England. I then travelled and worked around the U.S. and Central America.
Going abroad to study and work has changed my life. I have learnt that there are always different outlooks and solutions for anything. I have also gained greater awareness, flexibility and understanding for other people and opinions. Overcoming the first culture shock taught me that I could indeed stand on my own feet and be able to move beyond language barriers and cultural differences.
Why is language learning and cultural immersion important to you?
Alexandra: Trying to learn the local language is the key to understand a culture. Words are used to formulate and express thoughts, therefore they are the most immediate way to discover how people think, live and move in a different country. Beyond saying: 'ciao', 'grazie', 'pizza' and 'gelato', Italians will open their heart to anyone who makes an effort to step outside their cocoon and to go beyond preconceived ideas in order to communicate with them.
What is the best story you've heard from a return student?
Alexandra: Before returning home, a student of mine (whose wonderful name was Cicero, like the Latin orator) presented me with a drawing of his favorite Italian artwork and a note saying: 'studying abroad has opened my eyes, but I wish to thank you for also teaching me to see'…. (For a Professor of Art History this is the greatest of compliments). Once home he decided to Major in Art and is now exhibiting in a gallery!
How have you changed/grown since working for your current company?
Alexandra: I started working with CEA in 2008, when the company opened a study centre in Rome and needed an instructor in the History of Art. I have continued teaching for CEA since then, and additionally, in June 2014, have become Academic Director.
The years as an instructor have taught me to communicate my ideas and share my culture of origin with many students from the U.S. It is in fact their questions that made me understand how nothing can be taken for granted and how my outlook may differ from theirs in several ways.
It is my students who have helped me grow. Every course I teach is an opportunity for an exchange of ideas, viewpoints and values. From my former students I have learnt about their academic interests, goals and needs. Now, as Academic Director, I can put such experience to good use, offering academic support to the new generations who study at CEA Rome.