Scholarships to Study in Germany
Sponsored by

Why Study Abroad in Germany?
Nestled in the heart of the European continent, Germany has long attracted students with world-class education, rich cultural heritage, and a vibrant economy. If you are considering where to study abroad, Germany may be an excellent destination for you: you can study any subject (including excellent opportunities for students in STEM fields) at universities in both large cities and smaller communities. You can learn the German language, experience daily life, and come back from your study abroad experience with a wider worldview. Scroll to learn more about studying abroad in Germany and the German Academic Exchange Service (DAAD).
Universities in Germany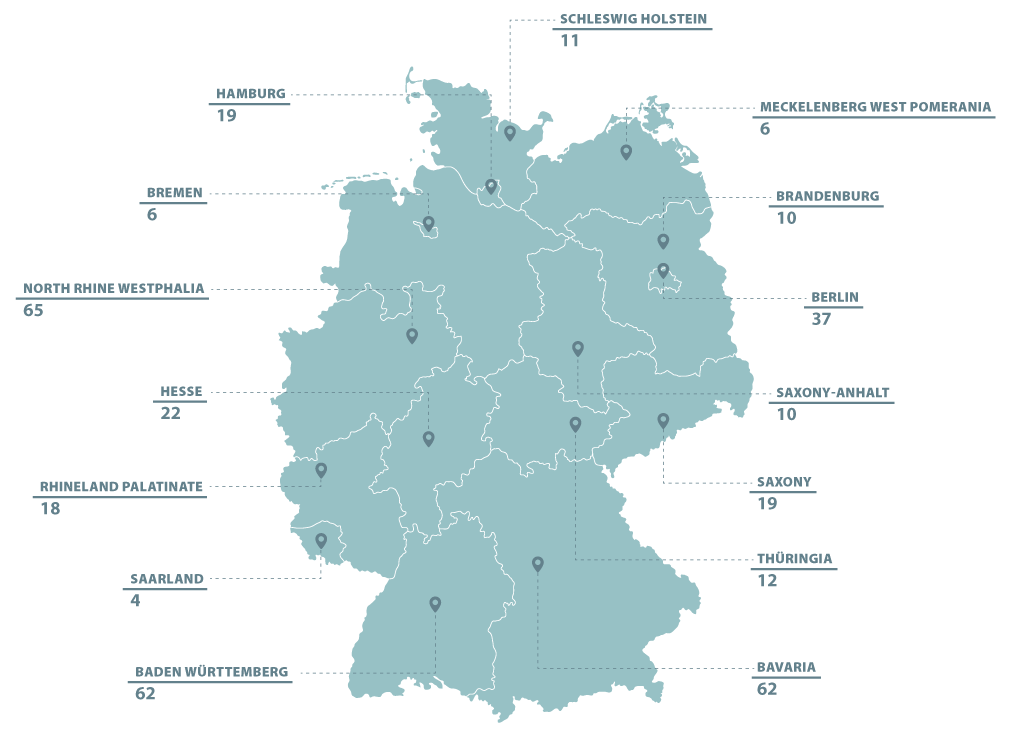 Learn About Studying in Germany
All About Studying in Germany
Learn why Germany is a great study abroad destination, plus see enrollment options to find your perfect undergrad or postgrad study abroad opportunity.
Learn More →
Typical Cost to Study in Germany
Check out the typical costs for studying abroad in Germany, including program costs, accommodation, and the cost of living in various parts of Germany.
Learn More →
Where to Study in Germany
Germany has fantastic study abroad options in cities and towns throughout the country. Learn more about some of the top cities to study abroad in.
Learn More →
Don't Speak German?
Learn about how you can study abroad in Germany -- even if you don't speak German. Read tips on studying abroad in Germany in English.
Learn More →
Know Before You Go
Get tips from a fellow student on what to know before you study abroad in Germany, and tips for adjusting to life abroad, to make it an unforgettable experience.
Learn More →
Enjoy German Cuisine
Germany has distinct and delicious food and drink you can sample while studying abroad throughout the country. Learn more about the top must-try dishes.
Learn More →
Frequently Asked Questions
How can I study in Germany for free?
Germany welcomes students from across the world to study at public universities for free. If you are from outside the EU, you will be required to get a residence permit before moving to Germany to study. The non-commercialized approach to education in Germany has broad public support, and the economic benefits from international students coming to Germany to pursue higher education far exceed the costs. Of course, there are costs above and beyond tuition that students must cover, like room, board, and transportation expenses. Additionally, students will have to cover admin charges every semester, but this will be less than 500 USD.
What does DAAD stand for?
The acronym DAAD stands for Deutscher Akademischer Austauschdienst, which translates in English to the German Academic Exchange Service. DAAD is a publicly funded institution representing 365 German Colleges and Universities. They offer merit-based grants for study or research at accredited Germany Universities.
Who can apply for a DAAD scholarship?
With few exceptions, only German citizens are eligible to apply for a DAAD undergraduate grant. However, citizens from around the world are eligible to apply for DAAD scholarships for Masters or Doctoral degrees. To determine your eligibility, visit the official DAAD requirements page.
How hard is it to get a DAAD scholarship?
For international students who meet the requirements and have completed a bachelor's degree, getting a DAAD scholarship is surprisingly doable. The hard work comes from your undergraduate studies and experience in the field. That said, it takes dedication and preparation to receive any scholarship, and DAAD is no exception. Do your research and apply for the DAAD scholarship as soon as you're eligible. You never know what might come of it.
Can I get a DAAD scholarship without work experience?
International, post-graduate students applying for the DAAD scholarship are required to have two years of relevant experience at the time of their application.
What are the requirements for the DAAD scholarship?
The requirements to qualify for the DAAD scholarship are: a) Completion of a Bachelors degree in the previous six years, b) Two years of relevant work experience, c) Either English (IELTS band 6 or TOEFL 550 paper, 213 computer, and 80 internet) or German (level B1) proficiency, depending on the course.
What's the best way to travel around Germany?
While the autobahn system is enticing if you want to speed around the countryside, Germany's train system is incredibly comprehensive and reliable. Travelling by busses and plane are also popular and reliable forms of transport.
How easy is it to make friends with locals while studying in Germany?
Depending on the length of your academic program in Germany, you may be able to make a lot of German friends. Make sure you check student groups and sport opportunities on campus, or offer language tutoring. You can also see if you can volunteer in your host city.
Can I have a job while I'm studying in Germany?
It depends on your nationality, but most students can work limited amounts while studying in Germany. Check with the International Office at your university to be sure, and visit study-in.de for more information.
Do I need a visa to study in Germany, and how hard is it to get?
Most international students will need a visa to study in Germany and possibly a residence permit too. Visit the DAAD website to learn more about specific requirements for your country.
What do I need to know about student housing while I study in Germany?
For most programs, you will need to arrange your own student accommodation. With support from your German university, you should be able to find a room to rent, according to the DAAD website.
What are my chances for finding work in Germany once I've finished my studies?
There are opportunities for both work placements and post-graduate employment in Germany and the rest of Europe. Consult the DAAD website to learn more about the requirements and your chances of finding work after studying in Germany.
What resources should I use to improve my German skills before studying in Germany?
Whether you are fluent in Germany or just starting to learn the language, you can study in Germany. The DAAD website offers resources to help you improve your German language skills before arriving in Germany.
Are there other scholarships to study in Germany?
There are a variety of scholarships available to international students who study in Germany. The DAAD website has a great deal of information about scholarships.
Featured Scholarship Opportunities