Exchange and Experience Italian Lifestyles While Teaching Abroad
View Other Details

Program Details

Timeframe

Short Term

Summer

Winter

Year Round

Travel Type

Budget

Senior Travelers

Solo

Women

Pricing

Price Details

The Program fee is €450,00 regardless of the length of the program itself.

Your Initial Deposit ("Initial Deposit") is 150,00 Euros (abbreviated as €).

Visit our website for more details on the program.

What's Included

Accommodation

Activities

Meals

Transportation

Wifi

What's Not Included

Airfare

SIM cards

Travel Insurance

Visa
70 travelers are looking at this program
Become part of the Joinki Language Tutor Program in Italy. This opportunity offers you a whole new way of experiencing cultural exchange since you will be given the chance to be an active member of a true Italian community.
You will serve as an English or German language tutor to an Italian family in the Trentino region in Italy.
In return for providing exposure to the language around 15 hours per week, focusing on conversation and some language tutoring, you will receive the following:
- Lodging and full board with an Italian family (three meals per day)
- Introduction and support from Joinki
- Italian Language Course
- One excursion every two weeks
- Free public transport
- Free entry free admission to more than 60 museums, 20 castles and over 40 attractions
Program Highlights
Enhance your resume with a unique experience.
Enjoy a truly cultural immersion program in the local community.
Free train and bus travel within the Trentino Region. Free admission to more then 40 museums, 15 castles and over 40 attractions.
Develope professional and technical skill.
Improve personal relationships-building skills.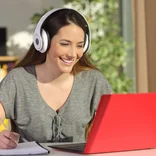 If there is one thing that the pandemic has brought to the Italian school it is definitely the accelerated transition to more digital tools. Would you be part of this change and help spread your mother tongue all over Italy? If you are a dynamic person who loves to teach English or German, loves Italy and its rich culture this is a perfect opportunity for you. Help local teachers and support student growth while enriching your teaching skills. Italy is waiting for you!