Classroom Audience
Early Childhood
Middle School
High School
View Other Details

Program Details

Classroom Audience

Early Childhood

Middle School

High School

Pricing

Salary / Benefits

Salary: $775–1,128 USD monthly
22 travelers are looking at this program
Thanks to its laidback lifestyle and friendly atmosphere, Spain has become a paradise for many ESL teachers who wish to live comfortably in Europe's most affordable countries.
Demand for ESL teachers has been on the rise in Spain in recent years, be it in well-established schools or as ESL volunteer teachers working in Spanish classrooms throughout the country. We recommend the latter for those without previous teaching experience or qualifications, but we still encourage them to enroll in a TEFL course before teaching as well.
Licensed teachers can teach in Spain in private international schools, although they need to have at least 2-3 years of licensed teaching experience before applying. Likewise, it can be difficult to get a job teaching in Spain without an EU passport.
Program Highlights
Known for its relaxed lifestyle and friendly residents
Second largest country in the EU
Home to 44 UNESCO World Heritage Sites
The bull is the national animal of Spain
Experience the excitement of Madrid, the beauty of Barcelona, or the Islamic influences in Andalusia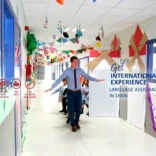 Meddeas is a Spanish organization present in six countries that supports multilingual teaching in more than 200 educational centers.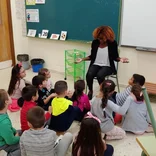 RVF International is an organization that helps connect teachers to schools all over Spain.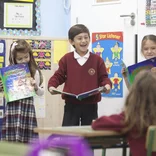 Aquinas American School is an American, catholic, co-ed, college-preparatory school founded in 2012 and located in a closed-gate community called Monte Alina, in the suburbs of Madrid, Spain. The school offers the American High School Diploma as well as the International Baccalaureate Diploma Program, preparing students to further their education either in Spain or abroad. We currently have 680 students enrolled from 39 different nationalities.
View the latest teaching job postings by Teach Away.