Financial Support
General grants/scholarships, Payment plans
View Other Details

Pricing

Price Details

2 weeks: US$1670

4 weeks: US$2400

Includes airport collection, two nights full board accommodation in a guest house in Lisbon, Lisbon tour, transfer to the wolf sanctuary, self catering accommodation at the wolf sanctuary, volunteer project.

What's Included

Accommodation

Airport Transfers

Equipment

Some Meals

SIM cards

What's Not Included

Airfare

Domestic Airfare

Airport Transfers

Transportation

Travel Insurance

Visa
18 travelers are looking at this program
Work with rescued wolves in Portugal, helping to provide care, food and safety. The sanctuary is located just 40 minutes from Lisbon within the boundary of a National Park. The area is beautiful, wild and rugged - a perfect new home for the wolves.
Volunteers help to prepare food and feed the wolves, ensure that they have enough water, monitor their behavior and improve their habitat. You will be helping with removing alien vegetation and planting native species.
This project offers unrivaled access to wolves, conservation and life off Portugal's beaten track. Explore the beaches, cities and ancient sights in your free time at the weekends.
Oyster Worldwide is passionate about the importance of responsible travel. We want our projects to fit in with the local way of life, without having a negative impact on the environment, culture or economy. This means that we will only send participants to places where there is a real need and where we have been asked to work. Once there, they should fit in with the community, respecting their way of life and supporting, rather than taking, local jobs.
Find out more here: https://www.oysterworldwide.com/about-us/our-policies/responsible-travel-policy/
Program Highlights
Gain unrivalled access to wolves, a notoriously shy creature.
Learn all about wolves, their behaviour and their care - amazing work experience.
Work alongside a team of international volunteers - and make friends from all around the world.
Explore the local area in your free time - beautiful beaches, stunning scenery and old cities.
Live off the beaten track in rural Portugal.
Volunteers make a huge contribution to this programme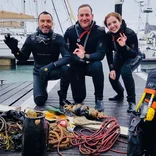 Each year, over 130,000 seals, whales and dolphins are killed by trash in the oceans. Over 600,000 tons of trash is floating in our oceans or on the sea beds. Join a team of passionate eco-divers, who dive every day to clean up the ocean near Lisbon.