Volunteer in Vanuatu - Non Profit Org & Charity (30+ Years)
View Other Details

Program Details

Timeframe

Short Term

Spring Break

Summer

Winter

Year Round

Housing

Apartment

Guesthouse

Host Family

Groups

Small Group (1-15)

Medium Group (16-30)

Travel Type

Budget

Family

Older Travelers

Solo

Women

Pricing

Price Details

All programs include arrival airport transfers, accomodation, 3 meals per day, 24/7 local support and certificate of completion.

What's Included

Accommodation

Some Activities

Airport Transfers

Equipment

Meals

Transportation

Wifi

What's Not Included

Airfare

Travel Insurance

Visa
5 travelers are looking at this program
Over 12% of Vanuatu's population live below the poverty line, with 1/3 of people lacking access to basic services.
Experience the real South Pacific with IVI. Vanuatu has unspoiled natural beauty, jungle trails, unique culture, stunning coastlines and off the beaten path destinations to explore. With a track record spanning over 30 years, you can trust IVI to provide a worthwhile and authentic volunteering experience. Vanuatu is recognized as one of the most culturally diverse countries in the world. Dances, ceremonies, artistic styles, authority status, and cultural traditions can vary from island to island. We have 4 amazing programs to choose from.
Meaningful Volunteer Programs in Vanuatu:
- Nutrition & Public Health Outreach
- Teaching in schools and kinder
- Coral Reef Marine Conservation & Diving
- Community Construction
- Cultural Orientation Week
Meet other international volunteers and experience Vanuatu like a local!
Program Highlights
Covered in tropical rain forests, mountains and volcanoes, Vanuatu is a stunning group of 88 islands in the South Pacific.
Travel with purpose in Vanuatu and help support underprivileged communities.
30+ years experience. IVI provides safe, high quality & responsible volunteer travel experiences.
Over 25,000+ Volunteers Placed Worldwide
Vanuatu is a short 3 hour from from Brisbane, Australia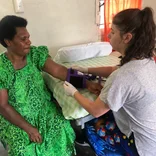 Travel with purpose and help combat malnutrition and public health issues in Vanuatu. For those with backgrounds or education in nutrition, holistic care, dietetics, nursing, physiotherapy, medicine, and community health enjoy working in a team of like-minded volunteers visiting authentic villages in Vanuatu to provide health assessments and related services. You'll have guidance from a qualified in-country practitioner.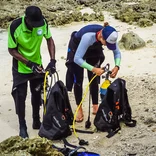 Located on a beautiful and secluded island in Vanuatu, help the local marine conservation team plant a coral reef. The waters of Vanuatu are warm, clean and full of sea life, however similar to various coral reefs in Australia, the coral's are affected by climate change and other environmental issues such as pollution and over fishing. By assisting in the project, you're helping to secure the unique biodiversity of marine life in this beautiful region of the South Pacific.