Language Schools
Affordable Cities for Language Learning Abroad
Here are some alternative destinations where you can learn popular languages on a stricter budget.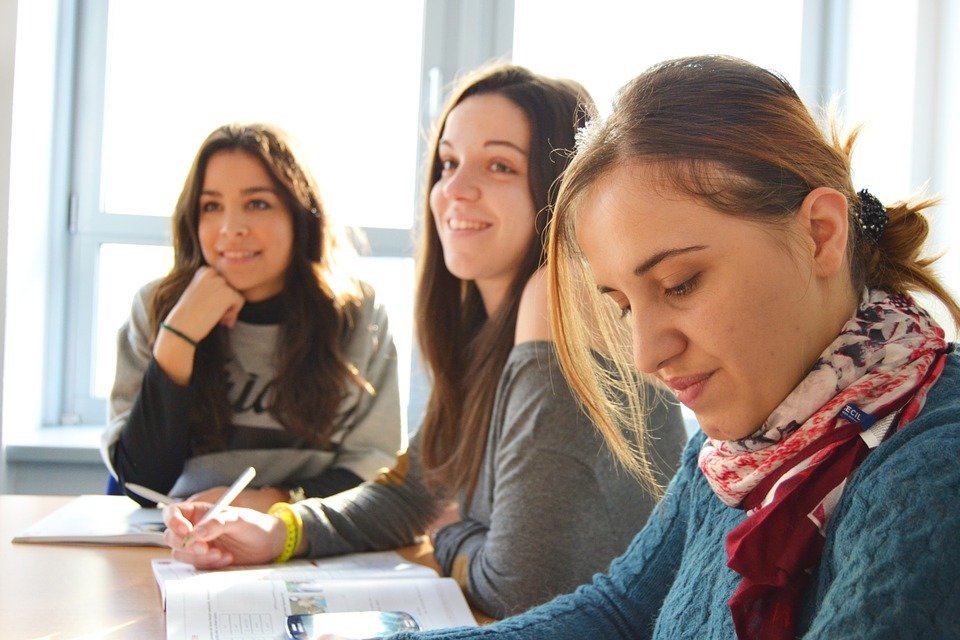 Speaking a second (or tenth!) language is a coveted skill on any professional resume. It opens the doors to a career that is truly international transcending the borders of the country where you grew up or live in. Global interdependence means that every business has a need for employees who are able to navigate different cultures and languages with ease.
In fact, the benefits of foreign language fluency go far beyond professional advantage; the ability to converse in the local tongue is a great skill to have when you travel overseas. Not only does it help you navigate everyday situations such as haggling in a local market or asking for directions, it also helps break the ice with locals and makes them appreciate your effort in communicating with them in their language. There are also loads of other benefits from speaking additional languages.
Studying a language overseas does not have to burn a hole in your pocket. Whether you're a student looking to study a language overseas for a semester so you can become proficient or a mid-career professional looking to pick up a new language on a month long sabbatical, you can consider these cheaper alternative cities to study popular languages. From private one-on-one instructions to group courses that can be combined with home stays, hiking trips, salsa lessons, cooking classes, martial arts courses, and horse-riding tours, language lessons offer great opportunities for exploring new places with a greater degree of cultural immersion. Here are some alternative destinations where you can learn popular languages for less.
Study Spanish in Antigua, Guatemala versus Madrid, Spain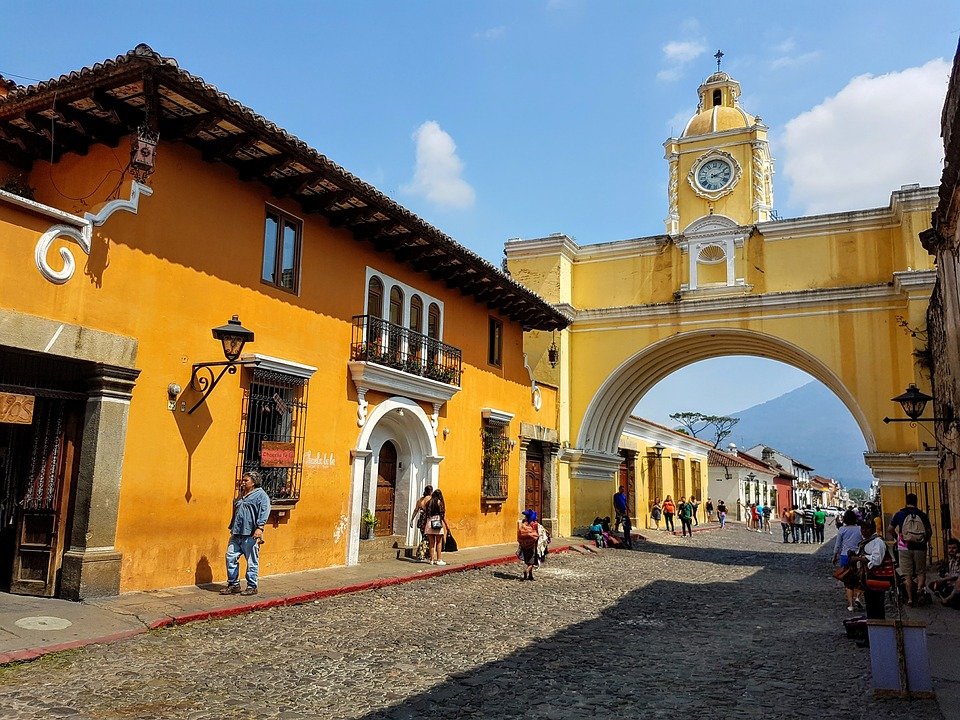 Madrid is rightly one of the most popular cities in Spain for those looking to learn Spanish. While Barcelona is known for its relaxed and laid back vibe, Madrid's charms lie in its endless energy and lust for life, evident in its vibrant culture, music, and love for the arts. But if you're on a strict budget, then it's worth looking for Spanish language study abroad options outside of Spain.
Of these, Guatemala consistently ranks as a preferred choice for students who are looking for a more culturally immersive Spanish program that is also affordable. You can study Spanish around Lake Atitlan, in Antigua, and Xela, among other cities.
While Xela has all the busyness of a big city, Antigua is a lovely colonial town and UNESCO World Heritage Site with Baroque architecture, cobbled streets, and quaint town squares and the area around Lake Atitlan is a hit with nature-lovers who would like easy access to activities like diving, kayaking, and volcano hiking, and to explore Mayan villages.
While a large number of students travel to Guatemala to study Spanish, the country itself is not touristy. This means that without the comfort of English being widely spoken you will have no option but to put to use everything you learn to communicate with locals in everyday life. With the Guatemalan accent, you'll be able to communicate and be understood in most Spanish-speaking countries.
What to Expect
The sheer variety of language schools in the country offers great flexibility and you can choose from a private or group course, ranging anywhere from a few weeks to a few months, depending on your level of proficiency. A four-week Spanish course in Antigua can cost between $800 to $1800 depending on whether you choose to stay at a hostel, hotel, apartment, or homestay.
For an all round cultural experience, a homestay with a local family is highly recommended. They may speak little or no English, but don't worry; this makes for quite the language learning adventure, and locals are friendly and encouraging.
Learn More: Studying Spanish in Guatemala
Study Arabic in Amman, Jordan versus Dubai, UAE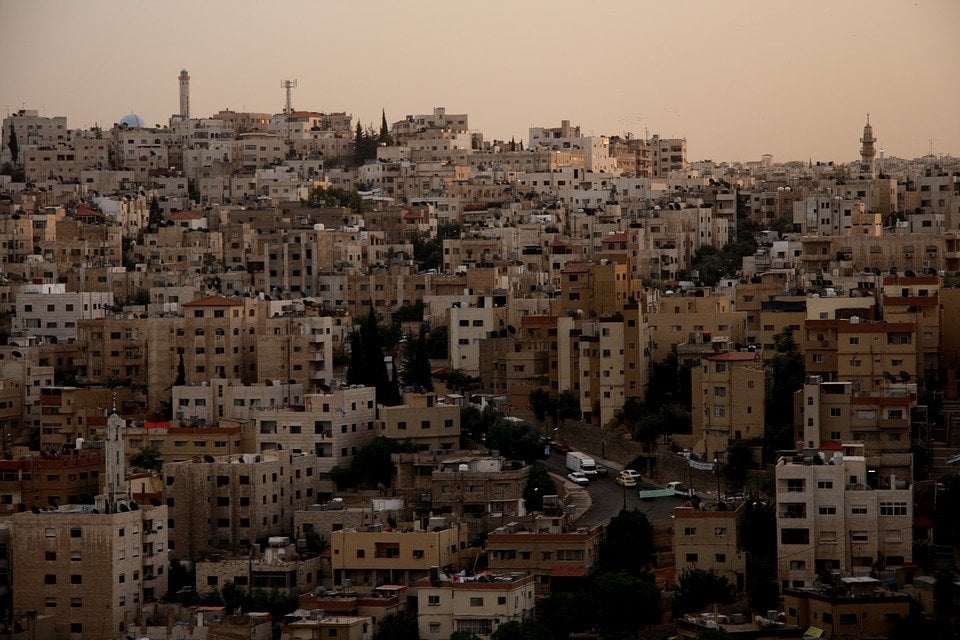 If you're new to the region, Dubai, with its high standard of living and comforts, is the kind of city that eases you into life in the Middle East. Dubai, home to a huge expat population, is a cultural melting pot and while you'll make friends from all over the world while studying Arabic here, you'll never feel out of place with English being widely spoken.
But it's no secret that like other major cosmopolitan cities around the world, Dubai is one of the most expensive cities to live in. Rents are high and everyday costs, from grocery shopping to going out on the weekends, can add up quickly.
As such, Amman in Jordan is a culture-rich and significantly affordable alternative to study Arabic in. Not only will you save on the sky-high rents and living costs of Dubai, even the course costs in Amman are lower.
Jordanians are some of the friendliest and most hospitable people in the region. Amman is a modern capital with an exciting arts and culture scene but is in essence, still quite traditional. This means it's a good choice if you're after a more authentic study abroad experience.
Considering that Jordan is home to incredible historical sites such as the ancient Nabatean capital of Petra, Dead Sea, otherworldly desert landscape of Wadi Rum, and beautiful cities like Aqaba, Amman is also an excellent base from which to explore the country on weekends.
What to Expect
A four-week group course can cost you between $1100 to $1900 depending on whether you decide to stay in a single room, studio apartment, or with a host family. If you like more flexibility, private tutoring is available more commonly in Amman and for a cheaper fee than what you'd find in Dubai.
While your course materials will teach you Modern Standard Arabic used for official purposes, you'll invariably pick up the local Levantine dialect, spoken in Lebanon, Jordan, and Palestine. The good news is that this dialect is both widely spoken and understood all over the Middle East.
Learn More: Studying Arabic in Jordan
Study Russian in Bishkek, Kyrgyzstan versus Moscow, Russia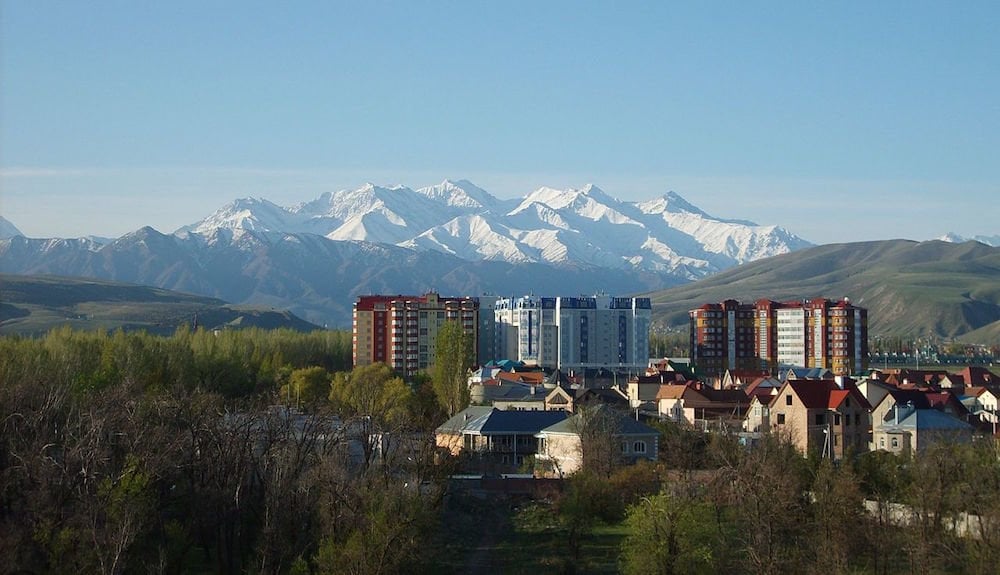 For Russian language learners, the Russian capital of Moscow is an exciting place to be in; this modern city has a cosmopolitan vibe, culture and arts scene that continues to be among the most prestigious in the world, striking Renaissance architecture, interesting museums and historical sights, and vibrant nightlife. But living in Moscow can be expensive and cause a sizable strain on your student budget, so it's worth looking at other options, some of which might not strike you as places you can learn Russian.
Bishkek, the capital of Kyrgyzstan, is one such cheaper alternative in a landlocked country that's home to magnificent mountainous landscapes, natural sights, and a unique nomadic culture, about which not much is known outside of Central Asia. This former Soviet Union member is slowly making its mark on the tourist map, appealing to nature-loving hikers and climbers around the world.
If you prefer city life, consider studying Russian in Bishkek. With a striking location in the Tien Shan mountains, the pace of life here is slow compared to other capitals, but the city is home to interesting post-Soviet era museums, sights, and plenty of green spaces.
But if you're a nature lover and like the idea of easy access to gorgeous mountain hiking trails, then head to Karakol, a city by Lake Issyk Kol, that serves as the base for mountaineers, hikers, and skiers. Spend your weekdays studying Russian and on the weekends, reward your inner adventurer with hiking or horse-riding trips to the great outdoors.
What To Expect
Russian is one of the official languages of Kyrgyzstan and while the course structure may be less formal than what you'll find in Russia, the focus on spoken fluency means that you'll be well understood in other Russian speaking countries. Living, travel, and study costs in the country are much lower than in Moscow.
You can choose to study with an intensive private course or group lessons. Many language schools also offer homestay and adventure tour add-ons, as well as other cultural immersion programs. Joining a group course helps you meet other students and become part of a community with which to share your study abroad and travel adventure. If you don't like the idea of a homestay, you can also stay in student residence halls or rent an apartment on your own or with other students.
A four-week group course in Bishkek can cost between $900 and $1100, depending on whether you choose to stay in a private room in a student residence hall or with a local family, sleeping in a private room in their home, but sharing a bathroom, and eating local meals that they cook for the family.
Learn More: Studying Abroad in Kyrgyzstan
Study French in Rabat, Morocco versus Paris, France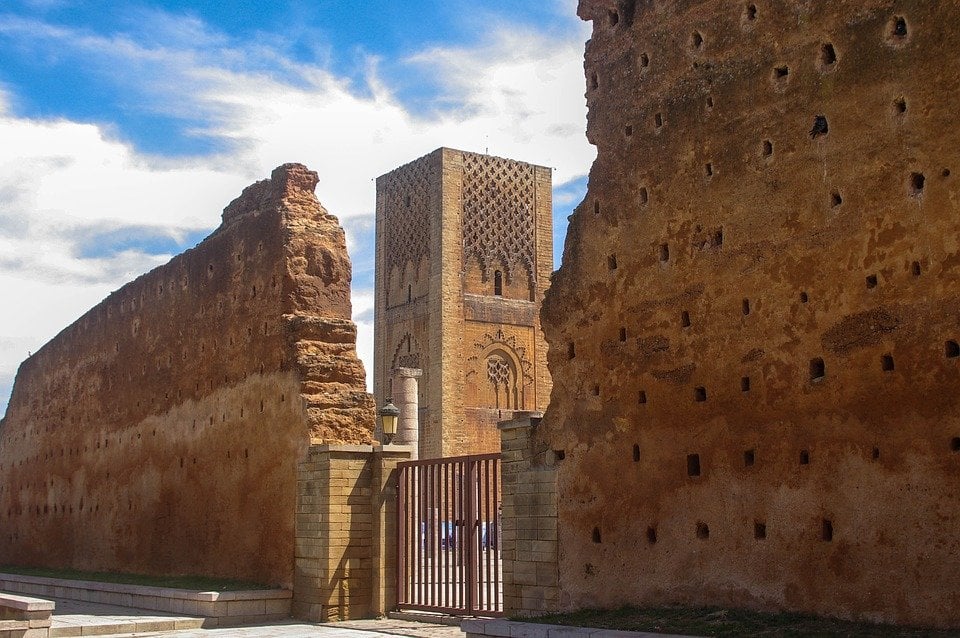 The romantic appeal of Paris is undeniable and we don't blame you for wanting to study French in this arts and culture hub that has inspired legendary artists through the ages, home to timeless icons like the Eiffel Tower, interesting museums, exquisite cuisine, and world famous couture. But living in Paris, with its exorbitant rents and high standards of living, for more than a few weeks is not something everyone can afford, so it's a good idea to consider more affordable alternatives.
For a cultural experience of a different kind, consider studying French in Rabat, Morocco. Intrepid travelers travel to this North African nation, intrigued by its authentic cultural offerings, magnificent desert landscapes, colorful villages, chaotic markets, coastal towns, and heart-warming hospitality.
Other than Arabic and Berber, French is widely spoken in some cities of this former French colony and is even widely used for official purposes in parts of the country. The Moroccan accent is thought of as neutral and is clearly understood in France and other French speaking countries.
Rabat, the political capital of the country, is home to museums, gardens, historical sights and ruins and while not overly touristy or chaotic, is a great place to stay in for a few weeks or months to learn French while you live like a local. On your weekends, you can explore other cities like Fez, Marrakech, Tangier, Chefchaouen, and Essaouira. Living and travel costs in Rabat and the rest of Morocco are significantly lower than in Europe.
What To Expect
Language schools in Rabat offer private and group lessons and some courses can be combined with a homestay or volunteer experience. You can also book your accommodation through your language school or rent an apartment on your own. Rabat is home to several acclaimed universities and as a student, you'll have access to a vibrant student community.
Schools like Sprachcaffe also offer dual courses where you can combine French and Arabic language study in one program. A four-week course can cost you between $1500 to $3500 depending on whether you choose to stay in a single room with a host family, a riad style guesthouse, or a hotel. Staying with a host family gives you the opportunity to learn about Moroccan culture and customs and experience the country's famous hospitality.
Learn More: Studying French in Morocco
Study Italian in Bologna versus Milan, Italy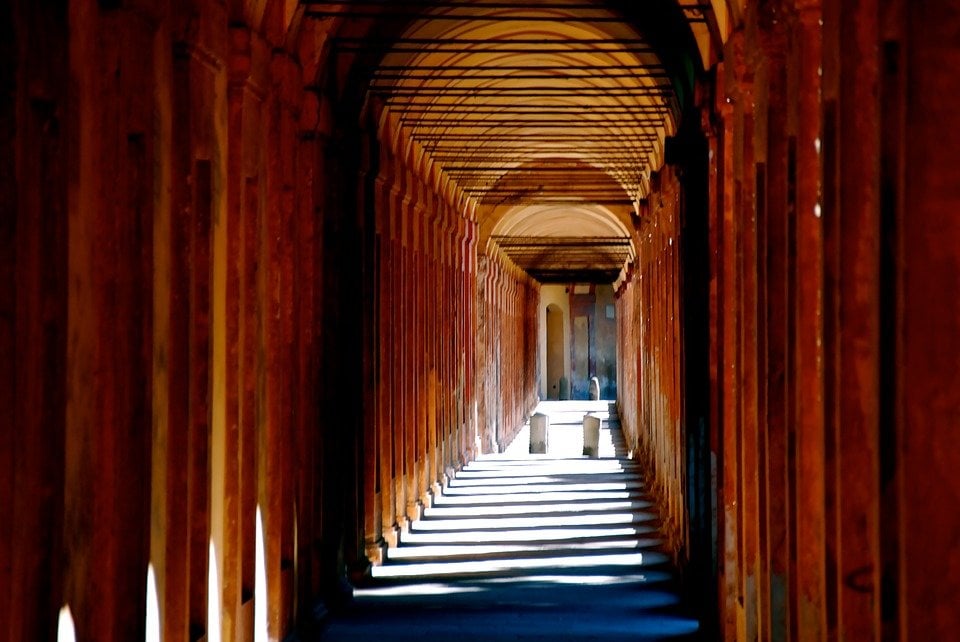 One of the world's four fashion capitals, Milan, known for its fast-paced vibe, futuristic style, edgy design, fashionable locals, and inspired modern architectural wonders, stands out from other Italian cities. Given how quickly its infectious energy rubs off on those who like glamorous, elegant, and modern cities, this is an exciting city to live and study Italian in. But Milan is also considerably more expensive than other Italian cities and the need to keep up in a city where appearances matter can deliver a serious blow to your study abroad budget.
The student city of Bologna, home to the oldest university in Europe, is a more affordable alternative in Italy for Italian language learners. This city, which can often feel more like a town due to its large community of local and international students is the kind of place you'll fall in love with quickly, thanks to its lively vibe, bustling squares, cheap accommodation, cultural events and festivals, musical heritage and friendly locals.
Bologna also falls in the region of Emilia Romagna, known to have the best food in all of Italy and the city is home to many unique museums and historical sites. With good transport connections, it also serves as a fantastic base to explore national parks, medieval towns, and other cities in the region and beyond.
What To Expect
As an Italian language learner, you can sign up for a private or group lesson, or choose to do a homestay and cultural immersion program that involves staying in the home of your private tutor, sharing meals with the family. If you value privacy, you can choose to stay in an apartment, B&B, or hotel.
A four-week group course can cost you anywhere between $1200 to $3500 depending on the kind of accommodation you choose, ranging from a homestay or apartment to a hotel. If you choose to stay independently, transport and food costs are largely affordable compared to cities like Milan and Florence.
Learn More: Studying Abroad in Bologna
Study German in Salzburg, Austria versus Frankfurt, Germany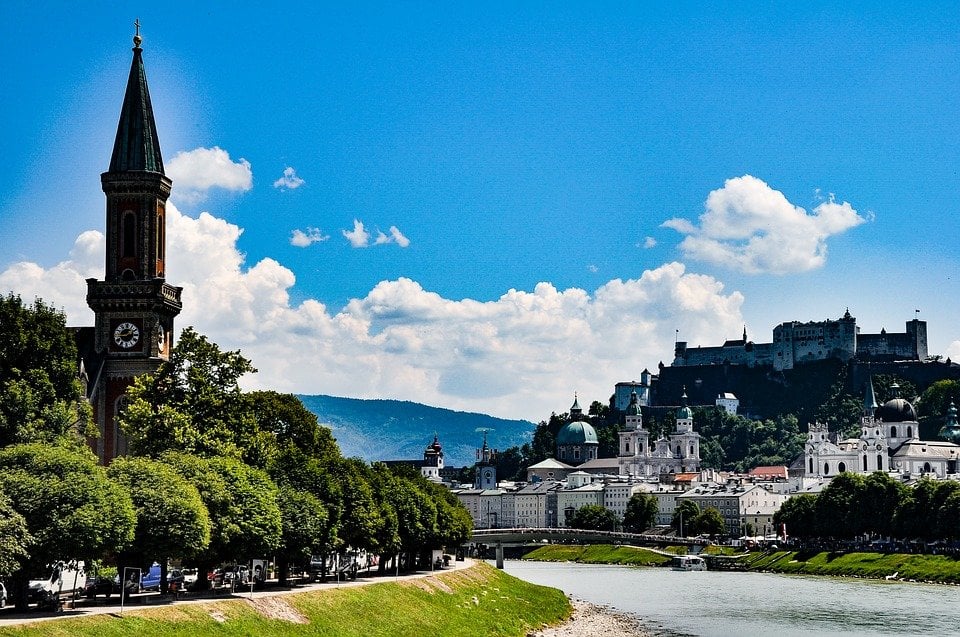 As the commercial hub of Germany, Frankfurt, with its towering skyscrapers, fast cars, cosmopolitan vibe, and business districts can be a promising city to study German in, especially if you like the excitement of big cities. Add to that the city's cultural charms, beautiful architecture, and green spaces, and it's no surprise that Frankfurt is a popular study abroad choice. But studying abroad in Germany can be expensive. If you're still keen on learning German, consider doing so in Austria.
The Austrian city of Salzburg, with the stunning backdrop of the Alps, is a fairytale-like cultural gem with an illustrious musical tradition (home of Mozart), splendid Baroque architecture, sprawling parks, concert halls and theaters, as well as delicious cuisine. The city continues to inspire artists, writers, and musicians, thanks in part to its pristine location.
The dialect of German that is most widely spoken in Austria is Austro-Bavarian German and it's also spoken in southern Germany. While the vocabulary differs from standard German, you'd be able to communicate and be understood in Germany.
What To Expect
You can choose between private and group lessons, and for the most effective learning, also consider a homestay with a host family so that you're motivated to communicate in German on a daily basis.
A four-week course for 20 hours a week can cost $1600 to $2000 depending on accommodation with a host family, in a single room, youth hostel, or shared flat. Additionally, you can also combine your German language study with a volunteer program, Viennese waltz or music lessons, and other cultural programs.
Learn More: Studying German in Austria
Study Chinese in Taipei, Taiwan versus Beijing, China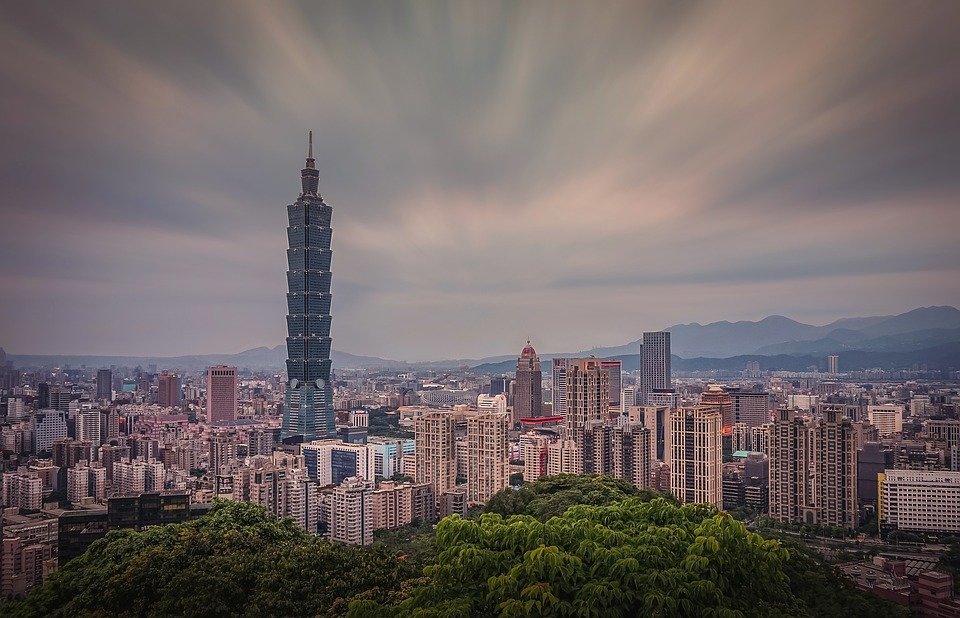 If you're majoring in business, finance, or are a mid-career professional looking to add more languages to your skill set, you should consider attaining conversational fluency in Mandarin, the world's most widely spoken language. With much of the world's economic development today coming from Asia, Mandarin is often called the language of the future.
The Chinese city of Beijing is an energetic metropolis with plenty of historical treasures and tourist attractions, a business and financial hub that is also at the forefront of the country's economic and cultural growth, and it's no surprise that those looking to learn Mandarin would think of it as the obvious choice. But if you're on a budget, it's far from your only choice.
For a more affordable Mandarin learning experience, look to Taipei. This Taiwanese city is modern, cosmopolitan, tourist-friendly, and might be a better choice than Beijing if you're new to Chinese culture and society. Historical sights, temples, and museums abound, but so do delightful green spaces, trendy cafés and international restaurants, and lively night markets serving delicious street food. The city has an excellent public transport system that connects you to the spectacular natural sights that lie in the rest of this gorgeous island nation that lies just off the coast of mainland China. Studying Mandarin in Taiwan means you will be able to communicate and be understood in all Chinese-speaking countries.
What To Expect
As with other languages, you can choose to study Mandarin with a private or group course, ranging anywhere from a few weeks to a few months. Your course might be administered through a certified language school, university, or private tutor, depending on your goals. But remember that Mandarin is not an easy language to learn and a few weeks might not get you very far when it comes to speaking and comprehension.
A three-week group course can cost you anywhere between $1800- $3500 depending on whether you choose to stay in a hostel, guesthouse, or hotel. Some schools also offer complimentary cultural events and group excursions.
Learn More: Studying Mandarin in Taiwan
Studying a foreign language in a country where it's actually spoken is a far more effective way of learning it than in your own city where you won't be forced to use it by practical need. But that does not mean your options are limited to the country where it was born or to the one it calls home. Languages, like cultures, often cross geographical boundaries due to shared histories or complex socio-political changes; this only adds to their evolution.
The resulting cultural immersion from studying a language abroad is a valuable bonus that offers a deeper insight into the lifestyle and traditions of a people.