View Other Details

Program Details

Activities

Backpacking

Camping

Mountain Climbing

Pricing

Price Details

Scholarships, Financial Aid, and Academic Credit available.

What's Included

Accommodation

Some Equipment

Meals

What's Not Included

Airfare
8 travelers are looking at this program
Join us for an adventure in the Indian Himalaya, where you'll discover new challenges and gain global perspective as you travel through soaring peaks. Backpack through alpine villages and practice your conversational Hindi with local community members. Develop mountaineering skills on high-altitude glaciers or navigate whitewater rapids while rafting on the Kali River. Learn one or more technical skills—backpacking, mountaineering, or whitewater rafting—in the highest mountain chain in the world.
NOLS India courses combine the physical challenges offered by mountain terrain with a window into the culture of Kumaon communities. Here, the traditional Indian greeting, namaste, is a word worth knowing and saying properly. Whether you're attempting a peak ascent or traveling to a high-altitude glacier to practice mountaineering skills, you'll encounter local community members along the way!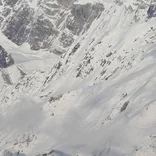 Leave the tourist destinations behind and head to the remote corners of northwest India to learn about leadership and yourself. Hike deep into the Himalaya and visit places where animal-powered farming is a way of life. Drink spiced cups of chai and challenge yourself with long days of backpacking. On this course, you'll focus on building a range of outdoor skills, cultural competence, and leadership as you gain a deep understanding of this region of India.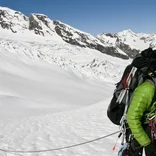 Learn to lead on challenging terrain on this high-altitude mountaineering course. As you explore India's remote Kumaon region, you'll develop the skills you need to travel on ice, snow, and rock in an alpine environment. You'll start with the basics of backcountry living, including minimum-impact camping and navigation. Then, progress to more advanced skills like glacier travel and crevasse rescue. Hone your technical skills so you're ready to tackle the next peak!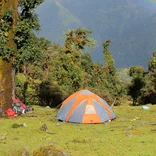 Immerse yourself in a unique landscape and culture while exploring the soaring mountains of the Himalaya. Make your way through India's Kumaon and Eastern Garhwal regions on foot, backpacking up high mountain passes up to 15,000 feet above sea level. Practice your conversational Hindi with local residents while visiting teahouses nestled in lush valleys. Learn about the region's ecology and traditional farming techniques as you travel through remote villages.