View Other Details

Program Details

Activities

City Exploring

Sightseeing

Timeframe

Academic Year

Fall

Spring

Summer

Year Round

Housing

Apartment

Host Family

Hostel
15 travelers are looking at this program
Thinking of taking a gap year? Want to make the most out of it, both personally and professionally?
At Euroace we offer unique Gap Year opportunities in Valencia, Spain where you can spend the full course with us. Gain real-world business experience, improve your Spanish skills or get involved with a local volunteer organization.
At Euroace we collaborate with multiple companies and organizations, across a range of sectors, to provide unbeatable opportunities. Including:
- Take an Internship or Volunteer placement
- Take a Spanish Language course
- Live with a host family or in a shared apartment with other students
- Partake in cultural activities
- Train / Play with a sports team
Our Gap Year programs are fully customizable; meaning you get to choose the length of your stay, the focus, the number of services and so on. We support you every step of the way and help you to build an original program, that will make your Gap Year one to remember!
Program Highlights
Total immersion; at work, at home and in class, will really help you to grasp Spanish and improve your overall level
Choose from a diverse range of fields to find the right internship or volunteer work for you, helping to boost your credentials and skills
Form new friendships, create a global network and enhance future employment opportunities through this international experience
Experience a brand new culture, learn and grow in a new environment
Train with a Spanish sports team in your preferred sport, and gain valuable skills and experiences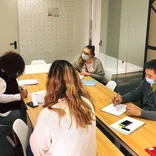 We have numerous placements with NGOs all across the Valencian region. You will be able to work with legal rights, underprivileged communities, youth populations, and even environmental conversation projects! It's an awesome addition to a Gap Year program if you truly want to help others, learn about new communities, and gain a Spanish language immersion at the same time. Our NGO partners seek to help not only local communities but international communities too.