Spanish Language and Culture Immersion in Valencia, Spain
View Other Details

Program Details

Language Level

BeginnerIntermediateAdvanced

Certifications

DELE (Spanish)

Class Size

Small Class (1-7)

Medium Class (8-15)

Pricing

Price Details

The cost of the program depends on the classes you seek, the duration of the course, and the type of services/activities contracted by the student.
9 travelers are looking at this program
Are you looking for a program where you can improve your Spanish while learning all about Spanish culture at the same time?
Our Spanish Language Immersion program gives you the opportunity to come to Valencia and fully immerse yourself in the Spanish culture.
This unique program provides Spanish language classes at our Euroace school while having the option to live with a Spanish host family for a wholesome experience!
The program can be made to measure for university and high school students or for other institutions. We offer General Spanish courses, Specific Spanish courses (business, law, health care, Spanish for DELE examinations, etc.) or Spanish Culture Programs covering a variety of topics focusing on culture, history, and idiosyncrasy. All Spanish courses are able to be combined with cultural activities to give you an insight into the "real Spain".
Whichever language program you seek, we can meet your needs and provide a unique, immersive experience for you!
Program Highlights
Living in Valencia! A city that offers plenty in the way of city life, business opportunity, touristic sights and beautiful scenery
Gain Spanish fluency by living with a host family and sharing daily life with the locals
Take a Spanish language course to enhance your learning and increase your opportunities to integrate with locals
Get involved with cultural activities to learn more about the environment, the history, the people and the typical way of life
Immerse yourself in all aspects of the culture to learn about Spain but also to learn about yourself through this unique cultural and personal experience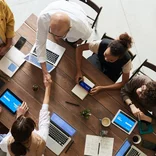 DELE is the official diploma issued by the Spanish Ministry of Education to verify your level of proficiency in the Spanish language. It is often required for anyone pursuing work opportunities or studies in Spain. Euroace Spanish teachers are experienced in exam preparation for all certification levels: A1, A2, B1, B2, C1, C2.