Gap Semester in New Hampshire. Farm, Nature Connection, Community Living
View Other Details

Program Details

Activities

Camping

Canoeing

Hiking

Housing

Apartment

Guesthouse

Tent

Pricing

Price Details

Tuition covers all program expenses, including room, board, all activities, adjunct instructors, and expeditions.

What's Included

Accommodation

Activities

Equipment

Meals

Park Fees

Transportation

What's Included (Extra)

A beautiful farm ready to feed our gappers.

What's Not Included

Airfare
11 travelers are looking at this program
Authenticity. Dignity. Wonder.
Discover What's Yours.
Gap at Glen Brook offers a domestic gap semester in the fall and spring on a 250-acre campus in the Monadnock region of New Hampshire. We are a community of life-long learners, explorers, and individuals committed to the joys of simple living.
The focus of the program is to build our connections. We work with our bodies and our hands to tend to the farm, forest, and program facilities that make up our home. Learn to cook a whole foods meal from scratch, try your hand at woodworking, harvest the fruits of a growing season, and explore the New England wilds.
Finding roots and rhythms at Glen Brook, gap students have a unique chance to examine what it means to live well, and what it means to belong—to both a natural and a human ecosystem. A semester at Glen Brook is a transformative experience for change-makers thirsty for a life of purpose and adventure.
Program Highlights
Bushcraft, Outdoor Adventure; Naturalist and Expedition Skills
Farm Life and Environmental Responsibility
Apprenticeship in Kitchen, Farm, Facilities and Education
Cooking classes and opportunities
Group Living - Skills for personal responsibility and independence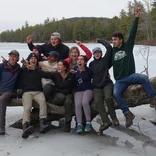 Spend the fall building relationship with new friends with the land and with your own values, feelings and purpose. Dig deeper on the farm, woodshop and kitchen. Build comfort in the outdoors orienteering, camping, hiking and canoeing. Take part in ongoing workshops exploring personal identity, impact on the natural world and the challenges of our times. Choose your own classes and projects from hewing logs to comedic improvisation. An array of skills for sustainable joy in life.