Gap Semester in New Hampshire. Farm, Nature Connection, Community Living
View Other Details

Program Details

Activities

Backpacking

Canoeing

Farming

Housing

Apartment

Guesthouse

Tent

Pricing

Price Details

Tuition covers all program expenses, including room, board, all activities, adjunct instructors, and expeditions. We have an additional $1750 course fee for optional college credit.

What's Included

Accommodation

Activities

Some Equipment

Meals

Park Fees

Transportation

What's Included (Extra)

A beautiful farm ready to feed our Gappers, wilderness trip gear rental, shared bedrooms in a historic farmhouse.

What's Not Included

Airfare
11 travelers are looking at this program
Gap at Glen Brook is a place-based semester program for 18-21 year-olds, nestled on a working farm in rural New England. Our eleven weeks of outdoor, experiential learning focus on developing practical skills to create sustainable lives and communities. Live with a close-knit cohort of peers, work on a sustainable farm, journey through wild places, learn to preserve the fall harvest, and dive into handcrafts like fiber arts and woodworking. Join us for our fall semester and learn by doing!
Participants can receive up to eight transferrable credits through our accreditation by the Gap Year Association (GYA) and their partnership with Portland State University.
Program Highlights
Learn to provide for your and your community's needs by engaging with the daily and yearly rhythms of our sustainable working farm and with the care of the gardens and animals.
Experience connection with the natural world through wilderness trips and hands-on earth skills – canoeing, backpacking, foraging, natural history, and more.
Develop homesteading skills while practicing the crafts of food preservation, in-season cooking, forestry, carpentry, fiber arts, and beyond—helping us to harness and preserve the seasonal harvest.
Share space as a cohort of peers and practice skills that are crucial within an intentional community: self-governance, communication practices, and group processes.
Engage in self-inquiry—reflection and critical questioning of our stories and identities within our lives, our community, and our society; not in a vacuum, but alongside work and learning.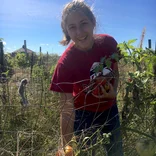 Spend the fall building relationships with new friends, with the land and with your own values, feelings and purpose. Dig deeper on the farm, in the woodshop and the kitchen. Build comfort in the outdoors camping, backpacking and canoeing. Take part in ongoing workshops exploring personal identity, impact on the natural world and the challenges of our times.