View Other Details

Pricing

Price Details

Price varies per program and is all-inclusive. Combine any two programs for a 5% discount.

What's Included

Accommodation

Activities

Domestic Airfare

Airport Transfers

Meals

Transportation

Wifi

What's Not Included

Airfare

SIM cards

Travel Insurance
0 travelers are looking at this program
Travel to Peru with Arcos Journeys Abroad to experience the wonder and fascination of this fascinating South American country. From the striking Pacific coastline to the majestic Andean peaks, Peru has an incredible amount of diversity reflected in its peoples and its landscapes. It was the heart of the Inca empire and is home to many world-famous archaeological sites such as Machu Picchu. With Arcos, perform community service and study Spanish in Lima, the bustling capital, or follow the Inca trail visiting top destinations such as Lima, Paracas, Huacachina, Cusco, and Machu Picchu.
Program Highlights
Hike the ruins of Machu Picchu one of the world's most enigmatic sites
Perform community service and work with children in Lima
Visit the colorful city of Cusco, high in the Andean mountains
Try your hand at a ceviche-making class
Travel by boat to the Ballestas Islands, the Peruvian Galapagos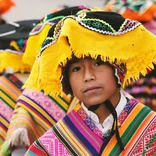 Discover the bustling capital of Lima. Explore its colonial architecture, museums, and archeological sites. Travel by boat to the Ballestas Islands off the Pacific coast to view wildlife. In Paracas, participate in a ceviche-making class and contest. Voyage to the desert oasis of Huacachina and sand board down immense dunes. Visit magical Cusco with its Spanish and Inca architecture and colorful markets. Summit the majestic heights of Machu Picchu, a once-in-a-lifetime experience.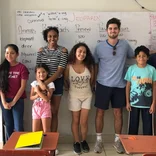 Perform community service with an after-school program in Lima and assist children with sports, homework, English classes, and art activities. Take Spanish classes in the mornings to enhance your learning experience. Explore the top attractions of Lima such as the Huacas, the ancient ceremonial centers of the Inca. Visit Lima's many famous museums and colonial neighborhoods. Travel outside of Lima for excursions to pre-Hispanic ruins and to enjoy outdoor activities in the Andean mountains.