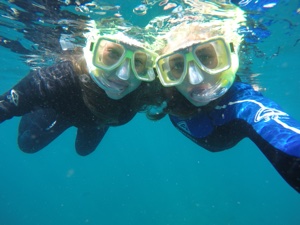 Why did you pick this program?
I picked this program because I was curious to learn more about Australia's wildlife in hopes to bring that information home and educate others! I have always fantasized about traveling to Australia and I knew I was getting the best of both worlds being able to volunteer and explore the country by traveling with ISV. I also knew that ISV had an amazing adventure tour program mapped out where I would be able to travel up the whole west coast of Australia in a matter of two weeks.
What do you tell your friends who are thinking about going abroad?
When people ask me what my passions are and what I love to do my immediate response is to travel. I encourage anyone and everyone to travel at one point in their lives and to travel alone if they can. I for the most part travel alone because I love what I learn when I'm alone and traveling alone gives you that much more room to be able to learn about other people.
The things you experience when you travel are unlike anything else you will experience. It truly opens your eyes and educates you firsthand about things you never even knew existed in the world.
What is one piece of advice you'd give to someone going on your program?
To be open minded. I heard so many amazing stories and learned so much about the people I was traveling with because I was willing. You will discover new things about yourself and embrace new personalities that you have never been around or are used too.
The more open minded you are, the more willing you will be to take on tasks that you never thought you could accomplish. After long 8-hour days of volunteering I was extremely tired, but what kept me motivated was my optimistic attitude and knowing that at the end of the day I was making a difference!
What's your favorite story to tell about your time abroad?
This is a tough question to answer. I have so many! But my favorite moment from the entire trip was ocean rafting through Australia's Whitsunday Islands on the 4th of July.
The Whitsunday Islands have some of the whitest beaches in the world and is located in the heart of The Great Barrier Reef. We were able to snorkel in two different locations and experience some unreal views from one of the islands viewpoints. I was able to get up-close and personal with sea turtles and lots of amazing multi-colored fish.
It had been a dream of mine to snorkel through The Great Barrier Reef but to have ocean rafted to our destinations and been surrounded by amazing company was what had made the trip perfect to me.
Did you ever become homesick?
This is a question I often get asked when I return home from my travels. The answer is no! What you make out of your time during your travels is what your going to get.
It was super important for me to be social and to meet as many people as I could so thats what I did. The friends I made kept me so distracted to where I found I was never even thinking about home. In fact, by the end of my time in Australia I was already wanting to plan another trip back!