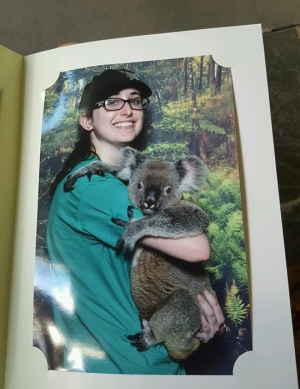 Why did you pick this program?
I picked this program because I wanted to make a difference and experience everything a country such as Australia has to offer. Volunteering gave me the chance to help rehabilitate the habitats of animals that I never thought I would see, and build homes for animals that may have multiple predators in the area. It also taught me about what happens to all of the animals and the environment if there is no rehabilitation. I learned about different cultures, like the Aboriginal tribe that I met, and gained perspective on things to do in my free time, that I wouldn't have otherwise been able to do - like snorkeling at the Great Barrier Reef!
What do you tell your friends who are thinking about going abroad?
I would tell my friends, and anyone else considering going abroad, to go and take advantage of the opportunity because it's a once in a life time chance that you may not get to experience again. I have gained so much more knowledge that I never would have if I had passed the opportunity up.
What is one piece of advice you'd give to someone going on your program?
The piece of advice that I would give to someone would be to savor every minute of it because it is a once in a life time opportunity that you may never get to experience again.
What's your favorite story to tell about your time abroad?
It's really hard to just choose one story because there are so many, but there are some of my absolute favorite experiences:
When we were on a volunteer site fixing tree guards, we were able to see a couple of Little Penguins in their habitat that we eventually got to make new homes for.
At Featherdale Wildlife Park I was to see, pet, and feed a variety of different animals, including kangaroos, koalas and wallabies.
On one of my last days abroad, I was actually able to hold a koala!
Bryanna's Travel Tips:
As far as packing goes, I brought way too much with me. I definitely used the water gear, layers, and work pants. I found that I could have left many of my regular clothes at home. I brought too many socks, underwear, and long sleeve shirts. I also did not need the hiking lamp, and hand towels. Hiking boots, pillow and sleeping bag are must-haves.
I suggest taking both local currency, and a credit card with you. There are local places that do not take credit cards, and you may need to use cash for the wi-fi, and laundry.
When it comes to staying connected, I found that it was difficult to use the local SIM card. Using your phone on airplane mode will save some costs when using wi-fi. In case of emergencies, get an international plan from your local provider for times when there is no wi-fi available.