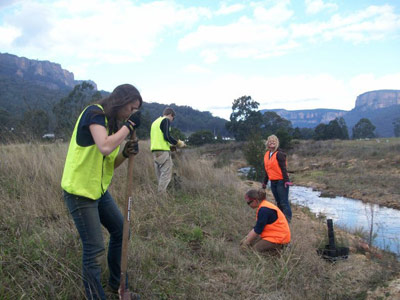 Tell us a little about ISV and your role at the company.
Jenna: My role as a volunteer for ISV was to bring a positive attitude and willingness to learn to Australia so I could work with a group of like minded people to conserve the land and animals that support us all. We planted nearly 7,000 trees and in turn saved various species of kangaroos from extinction so future generations can enjoy what earth has to offer.
How did you get involved in the volunteer industry?
Jenna: I began to volunteer when I was in middle school, teaching reading skills to children who were lacking in their development. I continued to do so at the local level in various fields. I learned about ISV in undergraduate studies and could not pass up the opportunity to travel to Australia! Volunteering at any age or any level is such a great way to gain experience in your interests while making a lasting impact in the lives of others.
What makes ISV unique?
Jenna: ISV is unique in the way they combine two weeks of meaningful volunteering with two weeks of adrenaline filled adventure travel. ISV's programs bring like minded people together to make a difference in the world while having a life changing experience within their own.
In your experience, what characteristics make a good international volunteer?
Jenna: A good international student volunteer in my eyes can be defined as someone who is whole hearted, motivated and carries a positive attitude- always willing to dive in, help out and learn from their surroundings!
What does the future hold for ISV?
Jenna: As more people travel with ISV, word will get out on how amazing and life changing this program is. It allows students such a unique opportunity that will be carried with them for the rest of their lives and the lives they touch. ISV is such a great way to exchange skills and knowledge between cultures. In the future I hope ISV has programs in every country someday available for university students so we can all call ourselves active global citizens!