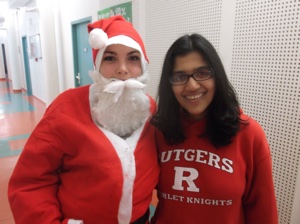 Why did you pick this program?
I chose TAPIF because it would enhance my French fluency while giving me the opportunity to teach English to a population whose native language I'd understand.
What do you tell your friends who are thinking about going abroad?
I tell them that it is an excellent but challenging endeavor. (And perhaps it is excellent because it is challenging!) Living abroad is irreplaceable among all other experiences.
What is one piece of advice you'd give to someone going on your program?
Meet as many natives as possible, and always be willing to learn from them.
What's your favorite story to tell about your time abroad?
I like to tell people about the dreadful experience of opening a bank accountand the wonderful experience of receiving a surprise party from my high school students and colleagues.
What should prospective travelers know about going to France?
1. It's good to know some conversational French beforehand. 2. The sights and foods are incredible. 3. It is a myth that all French people hate America.