Why did you decide to teach abroad with the Teaching Assistant Program in France?
Lucy: The first time I decided to join the Teaching Assistant Program in France I was already living and studying political science at l'Institute des Etudes Politiques in Lyon, and was eager to earn some money and gain teaching experience on the side. I had never taught in the classroom before, let alone taught in a foreign country, but decided to throw all doubts aside and give it a shot. At the time I was living with a host family so my French was strong, but in order to become fully immersed in the French lifestyle I knew I needed to extend my network and cultural understanding beyond my university campus. The Teaching Assistant Program in France gives you a first hand perspective of the educational system in France and connects you with French students and professors who are just as interested in learning about your culture as you are in discovering theirs.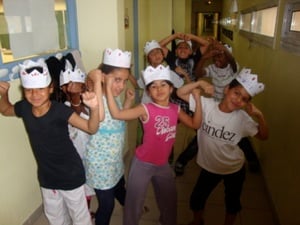 What made this teach abroad experience unique and special?
Lucy: The Teaching Assistant Program is unlike others in that it's unstructured and you have the liberty of designing all of your own lesson plans and instruction. Stepping in front of a classroom with no prior teaching experience, as you're faced with leading an English lesson to thirty noisy and overly-energized third graders, would make most people feel uncomfortable, vulnerable, or even terrified! However, I found the classroom teacher-student interaction to be thoroughly enriching and I was constantly learning how to better my English lessons as the weeks went by. The French teachers are great resources and always willing to help, so all you have to do is ask!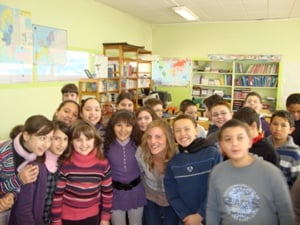 At one low-income elementary school in Ales, France, I conducted choir performances and invited parents, helped build an organic farm on the side of the school for improved food education, and led students on a hike/scavenger hunt in the wilderness. More than anything, I loved seeing how the kids responded to creative activities and how quickly they picked up the English language when classes were presented in a fun and imaginative way. I also formed close friendships with many of the French teachers and they often invited me to dinner at their homes, which really made me feel like a properly inducted into the French teaching community!
How has this experience impacted your future? (Personally, professionally, etc)
Lucy: My two years with the Teaching Assistant Program were exceptional. Without it, I wouldn't be be the bilingual, travel-addicted, education activist that I am today! After finishing my first year with the program, I made French my major and have used the language in every job so far. Although I now live in California, my old French lifestyle has not been lost -- I still watch lots of French films, skype frequently with old French friends, cook quiche lorraine on a regular basis, and always stop to help lost French tourists wandering around the streets of San Francisco.
This program helped me break down cultural barriers through cross-cultural exchange and has transformed the way I travel. I'm now more likely to do homestays or couchsurf, over staying in hostels, because I know how much more authentic and insightful the experience becomes when you get to stay with locals and learn how they live. Not only has this program instilled the travel bug in me, it has also inspired me to continue working in global education to promote foreign language acquisition and traveling with purpose.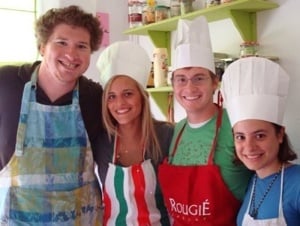 What is one piece of advice you would offer to someone considering teaching abroad in France?
Lucy: If you're considering teaching English abroad in France then I would recommend moving to your assigned city a month ahead of time and finding French roommates. It's really important to feel as immersed as possible during your stay if you want to come back to the States with a true grasp of what it's like to be French. You will also feel more involved in the school and invested in your students, because you will have made the effort to properly learn their language and culture. Besides, when else will you have the opportunity to live with French people and eat la cuisine francaise every night?!