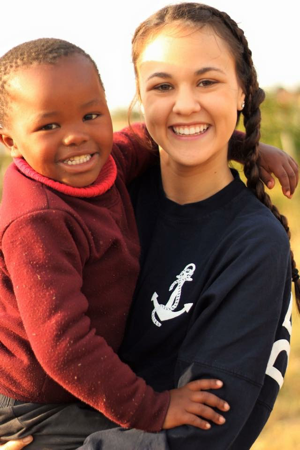 Why did you pick this program?
I have done volunteer trips abroad in the past, and this program intrigued me. I had always wanted to visit South Africa, and ISV allowed me to not only do that, but to give back to a community while doing so. I have always been passionate about volunteering, and I could not have asked for a better place, surrounded by better people than Chintsa. The local people were all so kind, friendly, and appreciative of the work we were doing. I can't wait to go back one day.
What do you tell your friends who are thinking about going abroad?
My friends can attest to the fact that I always urge them to travel, specifically to volunteer while traveling. I tell them that when they go somewhere, they shouldn't just see the sites, but they should spend time getting to know the local people and learning about the culture of the area they are in. I also encourage my friends to ask a lot of questions to learn about the cultural differences, lifestyles, and details about life in comparison to our lives in the US; I feel that doing so has really made an impact in my travel experiences.
What is one piece of advice you'd give to someone going on your program?
My best piece of advice for future ISV volunteers is to really appreciate and make the most of the time spent in Chintsa. Getting to know the people and learn about their lives was so rewarding. Also, make sure to go visit Mama Tofu!
What's your favorite story to tell about your time abroad?
One of my favorite memories from Chintsa was spending time with the local children. We would go into the VA32 township and play games with them; they were the most genuinely happy children I've ever met. They also really helped me learn the Xhosa language. I got lots of practice and they helped teach me how to do the phonetic "clicks." Bonding with the children and getting to recognize and learn about them and their lives during the time I spent in Chintsa was so special, and I'll never forget it.
What was the biggest cultural difference between life in Chintsa vs. life at home in the US?
There were many differences in the two cultures--language, food, etc. However, the biggest difference I noticed was the difference in sustainability. In the US we aren't very conscious of our energy usage. In Chintsa, people are very aware of the energy being used. There were rolling blackouts, meaning a few times a month, the town would turn off all the electricity to conserve energy. They also dried all their clothes outside as opposed to using dryers like we normally do here. I learned a great deal about sustainability while I was there.