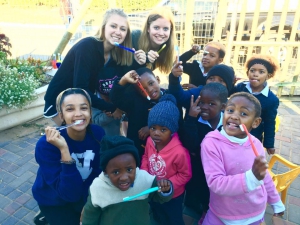 Why did you choose this program?
I had a presenter come to my class that worked with ISV. I decided to check it out and do some more research, that led to me applying and eventually deciding to go!
What did your program provider assist you with, and what did you have to organize on your own?
The program pretty much took care of everything. They sent out emails with due dates for money, forms, and other important things. All I had to do was pay on time, follow their directions, set up my flight with the group flight, and acquire my visa. But they did give you directions on how to do everything needed, and also in a timely manner. Just be sure to check your spam mail, things do get sent here which can lead to problems if you do not stay on top of it.
What is one piece of advice you'd give to someone going on your program?
Be prepared to have your life changed; you think you are going there to help them, but they change and help you more than you could ever imagine. Also culture shock when you come back is real... and it is hard, so stay in contact with the friends you make along the way, it makes it easier.
What does an average day/week look like as a participant of this program?
An average day (for the first 2 weeks) starts with a ride into the township, at about 8am, you typically play sports with the kids for a few hours. Then you will either join them in the classroom to help the learn, or you will go work on painting a creche or building a garden. The day ends around 5 and you head back to the house. Two people make dinner every night, then you just bond with your new friends (who you become closer to than you can ever imagine). Then about two times a week you will have a discussion with your project leader, sometimes you watch movies, but bed time is usually pretty early after a long work filled day!
Going into your experience abroad, what was your biggest fear, and how did you overcome it and/or how did your views on the issue change?
My biggest fear was traveling by myself and not knowing anyone. I overcame it by reminding myself what I was going to do over there, and then I met everyone and realized I wasn't alone in this and we were all going through it together.