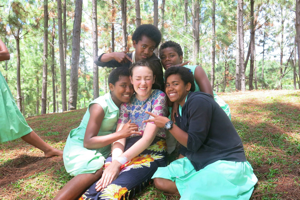 Why did you pick this program?
Everyone chooses to participate in a volunteer programme for a different reason. That's one of the great things about it: the coming together of so many amazing people on different paths that intersect in some incredible location a lifetime away from home. That was my reason for going. I quite literally wanted to go to the other side of the world, make a difference, have a new experience, and meet new people. I wanted to see a completely new way of life.
What do you tell your friends who are thinking about going abroad?
I tell them to think a little less and go. There's a ton of more practical advice I could give, but I get really excited when I hear someone is thinking about traveling. Travel is such a gift. The value it has had in my life is immeasurable and it's something everyone should experience. The most important piece of travel advice I can give is simply to get out there and really go for it.
What is one piece of advice you'd give to someone going on your program?
I'd tell them to jump right in and be brave. On my programme in Fiji it was those who spent a lot of time with the villagers, cooking, talking, drinking kava, sitting in the hall, etc, that got the most out of the experience. It wasn't that they weren't scared to dance in the hall with an entire Fijian village watching, it's that they did it anyway. Silana Village is the most beautiful place on Earth and home to the most incredible people. It's a privilege to be there and one that can be wasted if you don't immerse yourself. When you go somewhere new, try taking a couple of risks. I promise you'll end up changing your life.
What's your favorite story to tell about your time abroad?
These days all my stories start with "when I was in Fiji", and then my friends immediately retort "you went to Fiji?" with a sarcastic grin. It's hard to pick a favourite.
First is one from school. A few of my fellow volunteers and I worked at the Secondary School in the Dawasamu District with students 13-20 years old. The school was a run down old building with very little space to house it's amazing students. They deserved better. We spent most of the time supporting them academically, but decided to work on a community building project where the students would come together and paint an ocean themed wall mural. It was beautiful.
On my last day I had a tearful goodbye with my students and the teachers. One teacher who had been rather stand-offish, approached me and another volunteer (she hadn't ever spoken to to me in the months I was there) with tears in her eyes thanking us, saying how happy she was to walk by the mural everyday and see it. Then suddenly all three of us were sobbing together! It wasn't the praise that got me (it hadn't been us at all, it was all the students work!), but it was then I knew just how important the work we had been doing was and how much it meant.
There are a lot more stories, the time we made a scavenger hunt video and saved a staff member from 'drowning' in the office, the time we played a village wide two week game of murder, the time I revenged pranked two fellow volunteers for telling me a shark was after me, the time we went away for the weekend and all ate three slices of chocolate cake each, the bonfires, the movie screenings. I could write a novel, and maybe I will, but for now I'll leave it here.
What was the Hardest Part of your Program?
Initially when I arrived there was a lot to get used to. There were ceremonial rules to follow, ways of dress, mannerisms, etc, to follow in order to be respectful within the village. There was new food to try, people to meet, chores to do, students to teach and classes to plan! It was a lot to take on board and all at once. The first week was tough, but it wasn't the hardest part of the programme by a long shot.
That tough first week was short-lived. The staff members were so supportive, I had new friends going through the same things I was, a wonderful new Fijian family who took me in like one of their own, a beautiful village surrounding me, and amazing students who deserved the world and more. The privilege of being there so quickly overwhelmed me, that my tough first week blew by. The following weeks, months, were the best of my life.
In the end the toughest part was leaving.