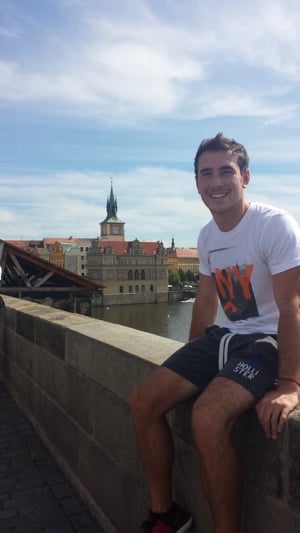 Why did you pick this program?
I first looked into CEA because they offered Prague, which was a location I was highly interested in. I then chose CEA because I found them to be extremely helpful, friendly, and their website/application process was very user-friendly. One large incentive CEA Prague offers is an open transportation card which allows students to freely ride trams, metros, and buses during their time abroad.
What do you tell your friends who are thinking about going abroad?
I encourage my friends to seriously consider studying abroad and, in particular, to check out and consider CEA's Prague location. I also suggest, however, that they do some research and find the location that suits them best. Overall, regardless of which location is chosen, anyone can make it a great life-changing experience by getting involved and taking advantage of all that their program offers.
What is one piece of advice you'd give to someone going on your program?
My advice to a study abroad student is to take advantage of every opportunity and to not waste a single moment. Even though I visited eight different countries during my semester in Prague, I came home wishing I had had more time and could have fit in more. My advice is that if there is a day you don't feel like doing anything, toughen up and go out and do something because you will be happy you did when you are back home!
What's your favorite story to tell about your time abroad?
One of my favorite experiences while studying abroad was interacting with a cute Czech couple who own a flower shop near the apartment I stayed in. One day when I was on my way to pick up a friend from the airport, I decided to stop and buy her flowers. I went in to that little flower shop that I pass every day on my way to school, but I did not know what to order or say - for two reasons. First, I don't have a clue about flowers and, second, I don't speak Czech! I spoke to the wife who worked there and after a moment of confusion, we started communicating in broken English. She helped me pick out flowers that actually complemented each other, and she made me a small bouquet. As I was pulling out my wallet to pay for the beautiful bouquet, she and her husband asked me where I was from. After hearing that I was from America, the husband went on a small comical rant about how much he loved Ronald Reagan as President, and how he believed that Reagan made America great. After his amusing speech, he gave me a small snowman-shaped Christmas ornament as a token of friendship. We continued to talk for a few minutes until I told them I must go pick up my friend at the airport, and so we said our farewells. This small act of kindness and warmth went a long way with me, and surely added a lot of happiness to my day.
Was it easy to travel to other countries while studying in Prague?
Yes! It was incredibly easy to travel and visit other parts of Europe. While I was abroad, I got to visit Denmark, Sweden, Czech Republic, Poland, Germany, Austria, France, and The Netherlands. With the open card that CEA provides to its Prague students, it was completely free and easy to take the bus to the airport. A flight from Prague to Dublin was about $88 round trip! There are many budget airlines that offer extremely cheap flights! Additionally, the buses or trains are a great way to travel. My 4-hour bus ride to Vienna, Austria only cost 24 Euros round trip. There are many cities that are close enough to Prague that you can visit by bus. Prague is known as the heart of Europe, meaning that it is a great location with lots of close neighboring countries just waiting to be explored.