Why did you pick this program?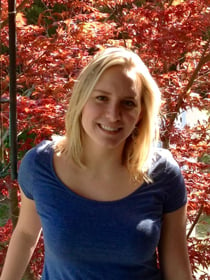 I was immediately attracted to Prague, Czech Republic because of its beautifully preserved architecture, small size and its proximity to other central European cities. I also thought that traditional Czech food sounded delicious... and it was! I'm not sure how many people would agree with me though.
Additionally, I've always been intrigued by the history of communism; and, although the Czech Republic is no longer communist, the nation's history piqued my interest!
I chose to study abroad with CEA because they offered the curriculum I needed, they had ideal housing arrangements in Prague, and were extremely organised and helpful both before departure and while in abroad.
Why did you pick this program?
I wish I had been told that I would become a different person after studying abroad. I had an amazing amount of freedom and autonomy while away. I was constantly going out, meeting new friends and exploring new cultures.
It can be challenging traveling to new cities, navigating unfamiliar environments, and being surrounded by foreign languages; however, I quickly learned how to manage the stress and enjoy my travels. Additionally, I wanted to understand local culture more thoroughly, so I tried to meet as many Czechs as possible.
Initially, I was out of my comfort zone, but I quickly began to enjoy striking up conversation with locals. It wasn't until I returned home that I realised how confident, independent and more outgoing I'd become. I'm able to handle stressful situations better and I'm definitely more extroverted.
What is the most important thing you learned abroad?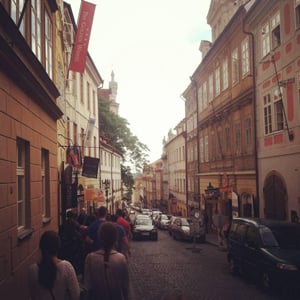 Everyone I know who studied abroad said that they would want to do it again! Actually, I'm going abroad again next semester! Can I endorse studying abroad anymore than that?
If studying abroad remotely interests you, you should totally take advantage of the opportunity! If you're concerned about getting homesick or missing out on social events at school, don't worry! Study abroad is a unique and wonderful experience unparalleled by anything you can do at your home university.
Additionally, family and friends are only a Skype call or text away! Actually, my mom set up a Twitter account to follow my posts and stay updated! If you're concerned about being disoriented or unfamiliar with your environment, speak with local program advisors!
CEA advisors were super helpful; they gave us thorough tours of Prague and our local neighbourhoods, sent out weekly itineraries of fun events around Prague, and were always friendly!
What was the hardest part about going abroad?
Time management can be tricky. When I was abroad, I had to devout an adequate amount of time for schoolwork, socialising, planning trips, traveling and running errands. I wanted to meet new people, see different cities, go dancing every weekend and do well in school! I wanted to prioritise but also maximise the experience abroad. My time management skills definitely improved over the course of the semester.
This translated well back home; my grades improved in the subsequent semester and that I procrastinate significantly less! I wasn't a bad student beforehand, but studying abroad really helped me become more efficient and motivated to get schoolwork done!
What's your favorite story to tell about your time abroad?
This story happened towards the end of the semester when I had fallen in love Prague and lamented the fact that I'd be leaving soon.
I had been dating a very sweet Czech guy for a few weeks. One night, we went on a date to the Karel Zeman Museum (it's really cool!) and afterwards, we decided to stroll across the Charles Bridge.
Prague Castle overlooked the bridge and was lit up beautifully. As we walked further down onto the street, we passed souvenir vendors. He remarked that the gifts didn't represent the Czech Republic well and that they seemed inauthentic and tourist-y. I replied, "If I was a tourist, I wouldn't buy that."
That's right, I said that I wasn't a tourist! Prague had become my home, I no longer felt like an outsider passing through. Sure, I'd only been there a few months, but I felt like Prague was somewhere I belonged.
In that moment, I realised what a precious gift the entire experience had been. More importantly, I realised how easily I could make anywhere feel like home if I surrounded myself with friends.
What is one piece of advice you'd give to someone going on your program?
I definitely recommend going out and making friends with locals! Sure, it's easy to hangout with American roommates; however, I found that making friends with locals gave me a more authentic experience. I discovered quaint, hole-in-the-wall cafes, bookstores and boutiques that I wouldn't have without local friends. I was able to gain a more thorough understanding of Czech culture and was able to assimilate and feel like less of a foreigner.
Essentially, having local friends made Prague feel like home. On that note, I also think that it's imperative to go out and explore as much as possible. Don't stay home; it's much more fun to be out and about!
What made this trip meaningful to you, or how did this trip change your perceptions, future path?
This trip helped me develop a better understanding of what I wanted for a career path. Additionally, it opened my mind to new ideas about the future and encouraged me to be more creative and advantageous in my goal-setting.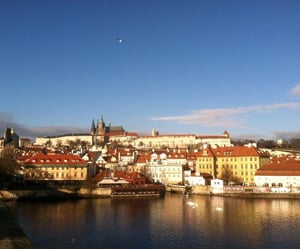 Before studying abroad, I planned on graduating with an accounting degree, moving to a US metropolitan area for work, and earning a CPA. My plans seemed attainable, stable and enjoyable. I never considered working outside the United States or living elsewhere for an extended period of time. Once I studied abroad, I decided that I absolutely wanted to work internationally and I could see myself living abroad again too!
The change was inspired by my positive experience abroad and by a few of my professors who were American expats. If they could figure out a way to live permanently in Prague, so could I!
I consulted with one of my professors about working internationally and we both decided that I should improve my foreign language skills in addition to finishing my degree and interning. Through studying abroad, I have been able to better hone in on my professional and personal goals.
What are your favorite restaurants in Prague?
There are so many yummy places to eat, especially if you enjoy Czech food! My friends and I loved going to Cafe Savoy or Globe for breakfast. Cafe Savoy makes the best french toast EVER! Globe is a comfy and casual restaurant and bookstore where I also spent some time studying on weekends.
For lunch or dinner I recommend Mozaika, Luka Lu, U Bulinu, Grosseto and Lemon Leaf. There are plenty of other fantastic restaurants that I didn't mention or can't remember how to spell! Finally, don't be afraid to try some street food or pick up stuff at local farmers markets! I have a new found appreciation for hot wine, sausage with mustard and trdelniks.