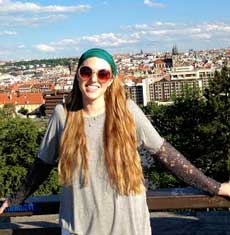 How has this experience impacted your future?
Abbey: Personally, studying abroad has been the most rewarding experience of my college career. It has broadened my perspective of the world by giving me the opportunity to embrace other cultures and lifestyles. It also increased my confidence, independence, and open-mindedness. I am now eager to seek other opportunities to travel, for personal, professional, and academic endeavors.
I have begun to think about furthering my education abroad, as well as exploring options to work abroad. I am unsure of my future plans, but I definitely want to incorporate traveling into all areas of my life. Studying abroad ignited a burning desire in me to continue to experience different cultures and meet people from all over the world. I've learned to deeply appreciate the diversity in the world, and want to expose myself to as much of it as possible.
Describe your program socially and academically.
Abbey: CEA offered social activities and excursions throughout the program. These events were optional so I never felt like my autonomy was restricted by being obligated to attend. I did, however, attend all the events that interested me. CEA planned these events as an opportunity for students to meet and become aware of culture and history. My program offered a Czech cooking class, a trip to the Jewish Quarter, the Prague Zoo, and day trips to other cities in Czech Republic such as Kutná Hora and Karlštejn.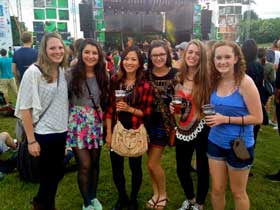 As for academics, CEA was affiliated with Anglo American University in Prague. I took a Prague Literature class there which I loved. It helped me develop a better understanding and a passion the literature and the city. My class went on "city tours" where we visited various places in Prague that held literary significance. Instead of trying to envision what the authors saw and felt, I was able to physically experience the places that I was reading about. It helped me feel a deeper connection to the city and also taught me a great deal about the history through literature.
Did you forget to pack something important? Did you feel as if you were missing something?
Abbey: I didn't forget to pack anything, however I was missing everything for the first few days I was in Prague. The day I arrived was less than ideal to say the least. A child threw up on me during the plane's landing, and then the airline company lost my luggage somewhere between the two flights from Atlanta to London to Prague. I was anxious, irritated, and smelt like vomit while waiting and never receiving my luggage in the airport, but I was too excited to let it ruin the beginning of my study abroad experience.
My roommates sympathized with me when I showed up without luggage and with vomit in my hair, and were shocked by my positive attitude. We were so busy getting to know each other and exploring the city during those first few days that I didn't even think about not having my luggage. The point I wanted to make by sharing this experience is that unexpected disturbances will always occur while traveling, and you will never be prepared or have any control over the situation. It's best to stay calm, be flexible, adaptable, and if possible find humor in these hectic situations. Although I didn't have my belongings and endured the frustration of inadequate airline services, the first few days I spent abroad are still my favorite and most memorable.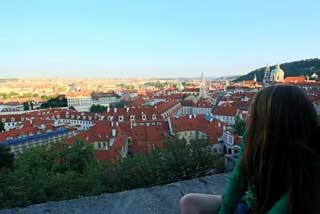 Do you feel you got a chance to see the city from a local's perspective?
Abbey: Absolutely. I lived in an apartment in a residential neighborhood away from the city center and tourist attractions. I had to learn to adapt and function in the way that the locals in my neighborhood did. I began to blend in rather than stand out as a tourist. I learned how to live like a local so well that I apparently appeared to be one.
I was asked for directions on a few occasions, and fortunately was able to help. This made me feel like a local and boosted my confidence in navigating around the city. My favorite part of my neighborhood, which truly provided a local's perspective, was the farmer's market at the end of my street. I enjoyed walking there in the morning to get coffee and fresh produce. It gave me the opportunity to interact with locals and feel a sense of community.