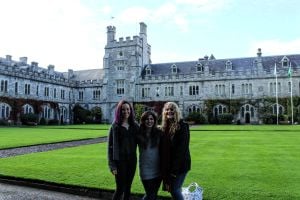 Give us a little intro
Hello! My name is Liz. I am from Pennsylvania but I go to West Virginia University in Morgantown, West Virginia. I study Biology at WVU.
Why did you pick this program?
It kind of picked me. I initially applied to three different programs: one in Edinburgh, one in Norway, and UCC in Cork. I did not realize I had not completed the Norway and Edinburgh applications until my study abroad advisor told me that I was accepted into the UCC study abroad program. I had no clue where Cork was in Ireland but I was excited nonetheless. I didn't realize how quickly I would fall in love with Cork.
What do you tell your friends who are thinking about going abroad?
DO IT!!!!!! I tell them not to think about it. I say, "Don't think, just do it. It will change your life."
What is one piece of advice you'd give to someone going on your program?
Don't be afraid to try new things and get out of your comfort zone. That's the entire point of studying abroad. What better way to get to know yourself and the world?
What's your favorite story to tell about your time abroad?
All my funny stories come from hostel stays. When you're sleeping in a room with 12 random strangers, funny (and weird) things happen. My fondest memories happened in the hostels I stayed in. I also made some life-long friends from every where around the globe.
Any last words of wisdom?
Traveling is probably the most fulfilling thing you can do with your short time on earth. Most people are concerned about money and budget and although it is important to make sure you have enough money for your entire stay, don't get caught up in saving every cent. Shop smart and spend everything else on traveling. Traveling is the only thing you spend money on that makes you richer. Save up and don't be afraid to spend it all on your trip to Barcelona, Spain or Edinburgh, Scotland or Prague, Czech Republic or where ever your wanderlust heart desires. :)