Why did you choose this program?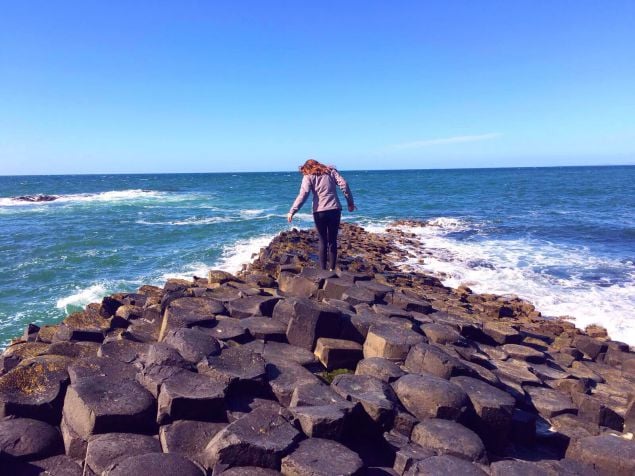 I always knew I wanted to go abroad, but I had no idea where. Being a junior, I was limited in what courses abroad I could take that would work towards my major or minor.
I originally found UCC in Cork, Ireland because they had a large selection of marketing courses to choose from that would transfer to my home university. After looking the school, I fell in love with the beautiful campus. Cork city seemed like the perfect size; big enough to explore, but not too overwhelming.
What did your program provider assist you with, and what did you have to organize on your own?
My program provider, USAC, helped me prepare for my semester abroad by providing a checklist of things I needed to do before leaving. Having a timeline of what needed to be done and when really helped organize myself.
One of the most helpful things they did was give options for housing. Housing for students can be really hard to find in Cork, especially close to UCC, so I was really glad to have two great options provided.
Some things I had to do on my own were renew my passport and get course credit approval from my professors and advisors. My USAC advisor was extremely helpful in answering every question I had in a timely manner. Also, USAC provided a handbook on study abroad and other helpful tips regarding banking, cell phone plans and useful travel apps.
Once in Ireland, International student groups and international advisors helped new students through the orientation process and getting acquainted with campus and Cork City.
What is one piece of advice you'd give to someone going on your program?
I wish I had known before I left how much study abroad would change my world. I knew it would be hard to leave everything behind to go to Ireland, but I thought coming back would be so easy. I thought that after five months abroad I would be ready to go home and that my life in the states would be the same as I left it.
In some ways that was true. I fell right back into the swing of work and being with my friends and family I had missed so much. But after the novelty of being home wore off, I started to miss Ireland. I missed my friends, whom I had grown so close with in the five months.
I missed the adventure and traveling that each day brought.
I realized that Ireland had changed me. I wanted different things out of my life than I had once thought. My advice to everyone studying abroad is to make the most of every second and realize that the experience is going to change who you are.
Also, I advise everyone to make local friends, and to spend time exploring Ireland. These two things absolutely made my trip everything that it was. Having Irish friends completely changed my experience in Ireland. I learned so much about Irish culture from the perspective of students like me.
While traveling Europe is amazing, make sure you make time for Ireland! Ireland is a beautiful country; Travel everywhere. Take the trains for weekend trips, the city buses for day trips, or explore Cork City on your own two feet.
What does an average day/week look like as a participant of this program?
My usual day in Cork involved class, exploring, and spending time with friends. As I was taking 20 credit hours, I had one class everyday of the week except Friday. Generally each class was around 2 hours, so I had the majority of the day to do other things.
Weather depending, I spent a lot of time trying out new coffee shops and exploring parks around Cork City. Once or twice a week I would grocery shop at the Tesco in the city center. My friends and I would go out to the nightclubs or pubs for a drink. I think having a daily and weekly routine made Ireland feel like home.
Going into your experience abroad, what was your biggest fear, and how did you overcome it and/or how did your views on the issue change?
I think my biggest fear about being abroad was that I would miss my friends and family. I was scared that it would be hard to make friends and that I would be lonely. Accepting that there would be times when I would be homesick helped me deal with it. I Skyped with my family and friends and kept in contact with them when I missed home.
Also, realizing that a lot of the other students are probably feeling the same way can be comforting. As I met more and more people and started to make real connections the homesickness faded away.
One of my all time favorite quotes I think sums up study abroad perfectly.
"You get a strange feeling when you leave a place, like you'll not only miss the people you love, but you'll miss the person you are at this time and place because you'll never be this way ever again"
My semester abroad in Ireland truly changed my life.