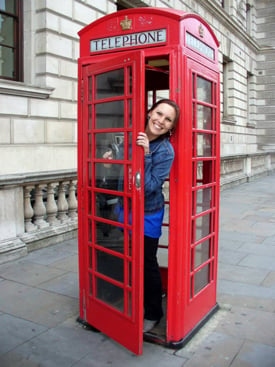 What position do you hold at University College Cork? What has been your career path so far?
Caela: I began my work in my North American Officer/US Representative position at University College Cork in July of 2014, and these past 6 months have been a whirlwind of learning, excitement, planning, traveling, meetings, and adventure!
Prior to landing my job with UCC, I worked as an Assistant Teacher at Chatham Day School in Chatham, NJ while writing articles and blogs for Education in Ireland, Enterprise Ireland, the Chronicle of Higher Education, Go Overseas, and i-studentglobal.com as a Student Ambassador and then later as a writing consultant. It's been quite the journey, and I'm excited to see what the future has in store for me!
Did YOU study abroad?! If so, where and what inspired you to go?
Caela: I did study abroad! I went to the University of Limerick in Ireland in the spring of 2009 (the end of my junior year of college) for my study abroad semester and then returned in 2011-2012 to attain my MA in English degree. Growing up, I always wanted to visit Ireland because of its rich history, beautiful landscapes and architecture, and its reputation for housing some of the best literary minds (I even made Ireland the topic for all of my geography/history projects in 2nd-8th grade).
I still can't believe that I was lucky enough to not only study abroad in Ireland, but also return for graduate school! My abroad experience opened doors for me as an individual and as a professional, and I don't know who or where I would be had I decided not to study abroad.
What does the future hold for University College Cork - any exciting new programs to share?
Caela: The short answer to this question is that there are, of course, a number of new, exciting programs and events on offer at University College Cork! UCC is currently in its Bicentennial Celebration of the Life and Legacy of George Boole- the man commonly known as the "father of the information age". The departments of science, engineering, and mathematics are buzzing with ideas, events, news, and projects revolving around Boole and his achievements.
Additionally, several departments are in the process of creating and recruiting for online graduate programs with blended learning options. All of our departments continue to emphasize research in green studies, international human rights, medical advances, physical/mental health awareness, and historic/cultural preservation. UCC is certainly on a path to an incredibly impressive future.
What country have you always wanted to visit?
Caela: I know it's probably cheating (okay, definitely cheating), but I have a trio of countries. I have always been obsessed with ancient civilizations: Greece (Athens and Sparta), Italy (Rome and Pompeii), and Egypt. When all the other little 10 year old girls in my 4th grade class shirked away from photos of tombs and mummies, I decided upon seeing them that I wanted to become the female Indiana Jones. Long story short, Greece, Italy, and Egypt are definitely at the top of my bucket list…perhaps I'll plan a 30th birthday trip. I do have 4 years to save up, after all!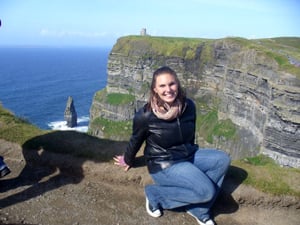 What language have you always wanted to learn and why?
Caela: American Sign Language has always fascinated me. My father knows a bit from his work in counseling and social work, and seeing him speak to clients and coworkers while signing always made me want to learn how to sign as well. I'm hoping to take an introductory class this summer and then continue to work on my ASL independently.
Oh…I know this is cheating (again), but I also want to learn the Irish language and attend an immersion class on the Aran Islands (off the coast of Galway) at some point. My Aunt Lynn and I are hoping to take one of the classes together as soon as we can find the time! Fingers crossed!