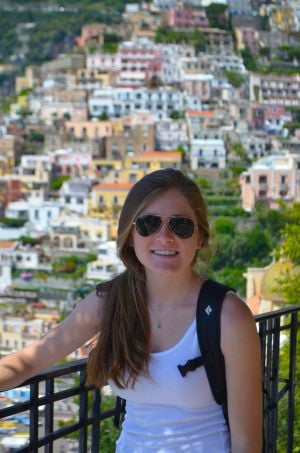 Give us a little intro
I am a senior at Boston University majoring in Public Relations and Marketing, born and raised in Concord, MA. Fun Fact about myself? I hiked Mt. Kilimanjaro in 2011!
Why did you pick this program?
I knew before I even started searching for programs that I wanted to travel to Australia and New Zealand during my gap year. It was a place I didn't think I would have an opportunity to travel to ever again. I stumbled upon Pacific Discovery while google searching gap year programs, and I was initially impressed with the variation of activities on the itinerary. I looked further into the program and it honestly just felt like a great fit for me. There were certainly parts of the program that I was uncomfortable with, but I knew that branching outside of my comfort zone was critical to learning and growing during my year off. The program really just felt right for me.
What do you tell your friends who are thinking about going abroad?
100% go! It's scary and it's overwhelming, but it's also most likely an opportunity that you will never have again! I've never been good with transitions -- that is without a doubt the hardest part of traveling outside of the country for me -- but the discomfort of being outside my comfort zone has always been worth it for me!
What is one piece of advice you'd give to someone going on your program?
The best advice I can give anyone going on a Pacific Discovery program -- or just going abroad in general -- is to travel with an open mind! I know this is easier said than done, but it will get easier as you spend more time in new places. It's so important to remember to soak up as many new ideologies, cultures and customs that you possibly can, and being open minded will make this both easier and more fun for you!
What's your favorite story to tell about your time abroad?
Oh this is a tough one. I think one of my very favorite memories from the trip was our Thanksgiving celebration in the Blue Mountains. Everyone made their own dish-- turkey, mashed potatoes, squash, cranberry sauce -- and the boys even wore paper top hats to dinner! We went around the table and announced what we were all thankful for. I remember thinking that, although we were constantly on the move, these eleven new friends had really begun to make Australia and New Zealand feel like a home away from home for me.
If you were able to do your Pacific Discovery trip all over again, what would you do differently?
Three things: First, I would be the happiest person on this planet if I was able to do this trip all over again! Second, I would have saved myself the trouble of worrying about the trip during three weeks leading up to it (the self-inducing anxiety is never worth it!!) Lastly, I would have taken advantage of EVERY single opportunity I possibly could have -- I wish I had worked up the courage to bungee jump, or pushed through the exhaustion after days of traveling and explored on my own!