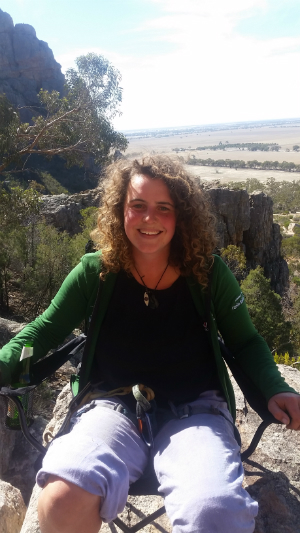 What position do you hold at Pacific Discovery? What has been your career path so far?
I lead Pacific Discovery programs in New Zealand & Australia. I love sharing my passion for adventure travel and conservation with our amazing students. Before landing a job with Pacific Discovery, I graduated with a degree in Outdoor Education and also spent time working and exploring the wilderness of both Canada and Nepal. Back home in New Zealand, I work alongside schools, colleges and training institutions to promote outdoor education and conservation.
What language have you always wanted to learn and why​?
I have recently started a Te Reo Maori course! Te Reo is one of the official languages in New Zealand; I remember studying the basics when I was in school but I have found the motivation to deepen my understanding and appreciation of the Maori culture. I would love to share my knowledge of the language and the indigenous culture with my students on our Pacific Discovery programs.
Describe a time when you felt especially proud to be part of the Pacific Discovery team.
At the end of each trip, our students deliver a presentation about their personal program experience...what they learned, how they may have grown and what they would like to transfer back to their lives at home. I see this as such a fitting way for the students to begin the reflection process on their experience abroad. During my recent fall semester, I remember sitting through each presentation and feeling really proud of the Pacific Discovery team because it highlighted the impact these programs have on our students.
It is humbling to be working for such a great organization and I love the impact we have on students' lives.
What does your home-country's culture​ value that is taught in your program?
We learn a lot about the indigenous culture throughout our journey in New Zealand & Australia. These are a few values that we teach our students:
Whanaungtanga- "A sense of belonging": Pacific Discovery sets up every program to promote personal and leadership development with a strong focus on team work. Our leaders work really hard on creating a supportive environment where students can feel at home and just be themselves.
Manakitanga- "A measurement of the ability to extend love (aroha)": Pacific Discovery programs are a shared group experience which encourages personal awareness, compassion, selflessness.
Kaitiakitanga- "Guard our natural resources [taonga]": Our programs focus on ethical travel and sustainability. We have some amazing service learning and conservation components on the New Zealand & Australia Semester; this gives students an opportunity to learn and protect and have a positive impact on the local environments they are traveling through.
Mauri- "It is me it is my uniqueness": My favorite motto is "Let your freak flag fly". On our programs, we always encourage our participants to be themselves and have fun!