What position do you hold at Pacific Discovery, and what has been your career path so far?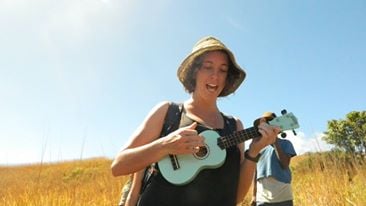 I currently lead our New Zealand & Australia Summer & Semester Programs. Having initially started my career as a secondary school teacher, I felt the classroom to be stifling at times and found a lot of inspiration and learning opportunities in the outdoor environment. Having spent a few years living and working overseas, I realized that my ultimate 'dream job' would need to involve a large amount of time in the outdoors. I wanted to lead programs that focused on experiential education, travel, adventure, and most importantly instruct for a group that was contributing back to the communities visited. Suddenly, I found Pacific Discovery and it seemed like the perfect fit! Our Directors, Scott and Rachel, have created a company that offers opportunities that encompass all of these aspects and I find my work to be an inspiring odyssey... never to be forgotten!
Did you take a gap year abroad? If so, where and what inspired you to go?
Yes! I've taken a couple of "gap years." I had itchy feet throughout my time at university and as soon as I graduated, I took off and adventured to Europe. I was based in London for six months, where I worked but also took off every weekend, traveling and exploring the many fascinating and diverse European countries surrounding England. During my travels, I felt myself being drawn to Barcelona. I arrived and immediately was immersed in the local culture - enjoying a small town "fiesta" celebration upon my arrival. I learned about the fantastic traditions and history but also enjoyed lots of great food, music and an incredibly welcoming atmosphere; I ended up spending two great "gap years" living in Spain.
Why is language learning and cultural immersion important to you?
Learning a local language is an important piece of traveling. It allows a traveler to communicate but really make genuine connections with people which allows people to have a greater understanding of the local culture. Language is so deeply connected to a culture as it gives insight into the history, customs and identity. Language learning goes hand in hand with cultural immersion; when I'm able to communicate with locals, it allows me to spend time with people and become involved in all aspects of daily living, which is different to how I grew up. There is so much enrichment & mutual understanding from both language learning & cultural immersion.
What is the best story you've heard from a return student?
A student on my very first New Zealand & Australia Semester, traveled with us at Pacific Discovery after graduating from college. She was a little unsure of the 'next step' she would take and the direction she would head at the end of the program. During her time at Pacific Discovery, she gained valuable skills from her group experience and was inspired to continue traveling; she spent the next six months backpacking in Europe (in a bacon costume, no less). She wrote a blog about the things she learned while traveling, the people she'd med and overall inspirational life philosophies - what a legend!