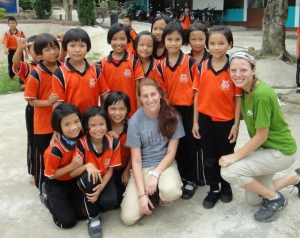 Why did you pick this program?
I chose International Student Volunteers (ISV) because I wanted to do more than just go on a fun trip abroad for the summer. I wanted to make a positive impact, help people, and learn. ISV matches you with a volunteer project that suits your interests and goals, they educate you on sustainability and responsible tourism, and leave you with lifelong friends and memories. I ended up in Thailand at a Life Development Center.
What do you tell your friends who are thinking about going abroad?
Do it. Going abroad is a life changing experience. You'll grow inside and out, create everlasting memories, and be referencing your experiences for the rest of your life.
What is one piece of advice you'd give to someone going on your program?
Prepare yourself to be taken out of your comfort zone. You're going to experience new cultures and ways of life. Keep an open mind.
What's your favorite story to tell about your time abroad?
My favorite memory was my last day in Thailand. Two of my new friends and I decided to check out this scenic overlook of Railay Beach we had heard about. It sounded like a casual walk up a path with some steps. We got lost along the way and ran into some monkeys and rock climbers at a beautiful beach. While backtracking we see a tiny wooden sign with an arrow at what looked like a mountain wall leading into the forest. There was a rope hanging down and people climbing up it. This was the path to the overlook. After a series of rock climbing and hanging on ropes, we make it to one of the most beautiful places I've ever been. We had some spare time after and went swimming at a hidden water cove that we saw a sign for. We made it back just in time to leave with the group.
Did you ever feel scared or concerned for your safety while abroad?
The great part of traveling with a program is that they care about your safety. We had a leader with us that was native to the country, who spoke the local language, and would give us advice. You're also almost always with a group of people, and everyone watches out for one another. I had friends and family who expressed concerns, but I wasn't going to let that stop me from the trip of a lifetime.