What is your role at ISV? What inspired you to join them?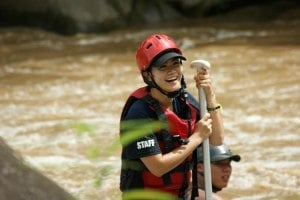 Milk: My role is Thailand Adventure Tour Leader. This position is very challenging as it's very adventurous and encourages me to get out of my comfort zone, things I never thought I will do in this life.
What do you enjoy most as far as your role?
Milk: People make me enjoy the most. People I met on tour, participants, our operators, or even random people I met along the way (those places we go on tour). I had chances to interact with lots of different kind of people, got to talk about different aspects in life, shared their experiences, and a lot of laughs and smiles. Those people inspired me with different things. It makes me feel like the world is so big; my life fills with so many bucket lists and experiences to accomplish.
What is your favorite story of a volunteer's experience with ISV in Thailand?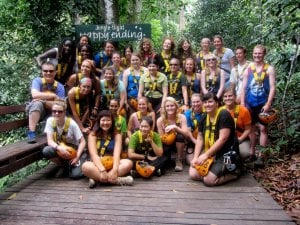 Milk: This story happened about 1 year ago (September 7S-2012), we were at Lisu Lodge just finished trekking and White water rafting. Participants were terrified of the fire crackers and the gun shots noise. It started since the evening and was getting louder.
We found out from the Lisu staff that today was Lisu New Year day. They would celebrate until 6 am. in the morning. The Lisu New Year tradition is that every family will welcome the guests, coming from everywhere by preparing food and drinks for them. Also most of kids and teenagers will get chances to dance (also flirt) in the circle on the playground of each house in the village.
The manager of the lodge said that ISV group was invited too. Then about 20 of us were so excited to join and were a part of the ceremony. Even though we were exhausted from 2 days trekking and white water rafting, we ended up had a great night dancing with Lisu people fully dressed up in their costumes. They taught us how to dance and we were sweaty after that. We learned a lot from Lisu New Year celebration and it was a once life time experience for all of us.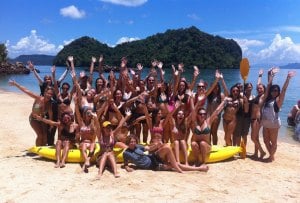 What should every volunteer considering Thailand know?
Milk: One of the most important things should be a cultural respect because volunteer come from different countries and different cultures. They should to be open-minded and be willing to learn, follow and respect the place and people they visit.
What tips/insights do you have for first-time volunteers abroad?
Milk: Be positive and open-minded! Get ready to learn and experience new things at all times.