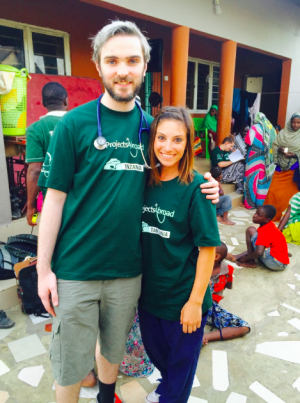 Why did you choose this program?
I chose this program due to the various locations and volunteer opportunities available. Projects Abroad was simple to use and had a variety of staff members that were always available to talk to in order to ease any anxieties I felt regarding my upcoming travel.
What did your program provider assist you with, and what did you have to organize on your own?
Once I was accepted into the program, they provided me with a list and timeline discussing when I should apply for a visa, provided me with instructions and the form for my visa, secured my accommodation with a host family, placement in a hospital, gave me a timeline for when/what vaccinations I should receive and provided me with an extensive packing list.
They also booked my flights, although I ended up rebooking them on my own. They also provided me with transportation to and from the airport in Dar es Salaam, Tanzania and I organized my own transport to and from my home and the airport in Los Angeles, where I departed from.
What is one piece of advice you'd give to someone going on your program?
I wish I had brought more lightweight, light colored pants to sleep in, as mosquitos are attracted to black, and wearing shorts would mean I got bitten up a lot. Also, purchasing local bug spray is extremely helpful. I would also suggest doing as much research as possible in terms of culture, dress standards and just being as prepared and open-minded as possible.
Bring your own scrubs and gloves, as they are scarce in Dar es Salaam. Additionally, bring individual packets of laundry detergent. In my house, our Dada (housemaid) did our laundry for a slight fee, but with my detergent, I did not have to purchase any. I could also wash any clothing (they will not wash underwear, bras, or bathing suits for you) in the sink with my own detergent.
Lastly, don't forget gifts for your host family. The adults love any sort of photo book or gift that shows your home town (they are also easy to pack!). For the children, make sure you know the ages/genders of any children that will be in the house. I had a children's gymnastics book that a friend of mine had written, and the girls in my house made me read the book to them at least twice a day!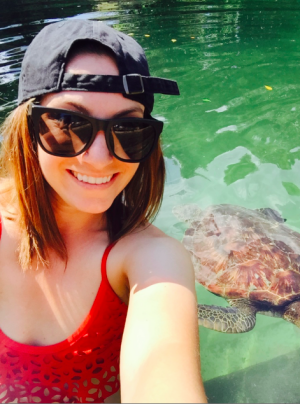 What does an average day/week look like as a participant of this program?
An average day would be waking up around 8 AM, having breakfast with my roommates and the host family, walking about 3 km (almost 2 miles) to work, taking the bus to the hospital, working in the hospital from about 9-4, taking the bus and walking another 3 km back to the house to have lunch.
I would then shower, relax and either eat dinner with our host family or go out to dinner with friends and then relax and go to bed!
Weekly, I would do that daily routine Monday-Friday and then on the weekends I either went to the beach/explored, traveled to Zanzibar for a weekend of snorkeling, swimming with sea turtles and sightseeing, and going on a 3 day safari at the Selous Game Reserve.
Going into your experience abroad, what was your biggest fear, and how did you overcome it and/or how did your views on the issue change?
My biggest fear was just general discomfort with my new surroundings. I had never traveled without my family or friends, never stayed with a host family and had never lived in another country for such a long period of time.
The best way that I overcame it was discussing my anxieties with others who had been in the same situation as myself and to others that were going to be in Dar es Salaam at the same time as me. Additionally, doing research regarding Dar es Salaam was crucial. I expected for the city for the be far more conservative, but it was more secular that I had anticipated (with the exception of Zanzibar). Furthermore, the Projects Abroad staff on site was able to answer any questions I had and made sure that I felt at ease by checking up on me regularly.
After a few days, I felt right at home. My host family was so gracious and the staff at the hospital made me feel very welcome.
Also, living in a large city prepared me very well for commuting to work alone (for the first 2 weeks until I had a housemate who worked at the same hospital as myself). I never felt unsafe, uncomfortable, or that I stood out (even though I know that as a Caucasian female, I did stand out!). I would make sure that other travelers who would like to do this program know that they should walk with a purpose, be aware of their surroundings, and make sure that they carried a large water bottle around with them everywhere!
What will you do going forward to make sure that your future experiences with Projects Abroad will be as enjoyable as my first?
In the future, I will make sure that I have plenty of lightweight, light colored pants to sleep in! I will also make sure that my cell phone will work in whatever country I chose to visit. In Tanzania, having AT&T was not conducive to receiving a local SIM card. Therefore, I had to purchase an external wifi device that I kept in my pocket. If I had stayed for longer, I would have purchased a local cell phone.
In the future, I will either make sure in the US that my phone will work in any country, or I will purchase a cell phone that will have texting and phone calling capabilities. I may also purchase my own individual wifi device so that I do not have to return to a telephone store in a mall to put more data on the device (it runs out quickly!).
I will continue to keep a journal of the medical procedures that I assisted with. If possible, I will try to connect with other volunteers who will either be living/working/visiting at the same time as myself so that I can have built-in friends upon my arrival. I will also come prepared with stickers to give to pediatric patients, as they loved the ones that I had with me. Any research in advance in terms of travel will be helpful, so that I am not scrambling at the last minute to book trips.