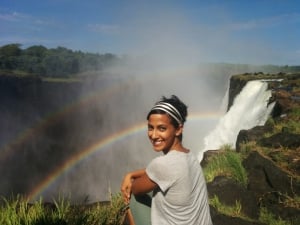 What is your favorite travel memory?
Reaching the peak of Mount Kilimanjaro right before sunset, I had a pounding headache that got progressively worse the 6 hours it took to summit to the peak starting at midnight the night before, but it was all worth it to see the sunrise from up above the clouds. I had refused to take altitude sickness pills or even any Tylenol, and I feel accomplished to have reached the peak with the strength of my own mind and body. My tip for others is to drink lots of water, I drank a liter before breakfast everyday and to walk slowly, it is not a race!
Which destination is most underrated? Conversely, which is most overrated?
The most underrated is Mexico, there is more to the country than its resorts on the beaches, the people are really nice, the street food is amazing (they love their spices and their sweets) and just as cheap as places in Asia. The most overrated at times was Thailand, the beaches are gorgeous, there is more culture preserved in the north, but it is hard to experience the culture on the islands in the south near the beaches, on which there are more tourists than locals.
What do you believe to be the biggest factor in being a successful company?
To be a successful company it has to have employees that believe in the product and service, that way there is a passion they convey to the consumer.
How have you changed/grown since working for your current company?
I have gotten an even better world perspective, I understand more of the needs and issues in various countries. I have travelled to many as a tourist, but while working at Projects Abroad I have gained to understand the issues the locals face in each of these countries.
What unique qualities does your company possess?
We try to hire locally within the countries where we have volunteer projects setup. We hire local staff to attend to the needs of volunteers, and we also try to arrange different departments of a company in those countries, for example our Mongolia office handles the Finance department, our Volunteer Advisors (those in touch with our volunteers prior to departure) are based in Mexico and South Africa, there is not any outsourcing, it is important that all of us work for Projects Abroad directly. We all work for the same company, and therefore we are constantly in communication with each other to ensure that the information our volunteers receive is accurate and timely.
Describe a time when you felt especially proud to be part of your current team.
When the earthquake hit Nepal in April 2015, we were able to arrange work for our volunteers very quickly, and volunteers started signing up to help with relief efforts almost immediately. And knowing, just within a year our volunteers have built six schools, with a total of 65 classrooms, enabling over 1,500 students to continue their education and more than 60 teachers to return to work, makes me proud to work here.