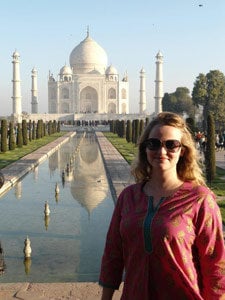 Why did you decide to volunteer with IVHQ in India?
Michaela: After deciding to volunteer abroad I did a lot of research on volunteer programs. Many of them were extremely expensive and I was concerned about being able to afford to do this. I also was skeptical about where the money I would be paying would be going. When I came across IVHQ the first thing I noticed was how affordable the programs were; they also had a lot of information and testimonials about their programs. With IVHQ I felt informed through the whole process about the program and what to except. I also knew that with them that my money was going towards the program and not just being pocketed by the organization. Overall I felt very comfortable with IVHQ from the very beginning.
Describe your day to day activities as a volunteer.
Michaela: The program I chose was teaching English in northern India; I ended up being placed teaching young monks. I taught them for around 4 hours a day; in the morning and the afternoon. It was a challenge at first because they were all at different levels. Once I figured out their different levels I was able to figure out how to teach the class. Most the class was broken up between conversation and grammar. We also did group projects, arts and crafts and sports. Apart from this class I also chose to teach a beginners English class to adults in the morning, as well as conversational classes. I usually taught for around 6 hours a day.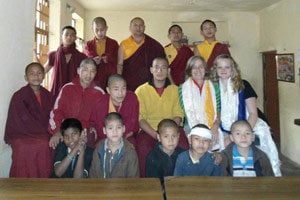 What made this volunteer experience unique and special?
Michaela: Since I was in India for 11 weeks I really got a feel for the area I was in and became part of the community. Everyone was so friendly and welcomed me instantly. I also really connected with my students and learned about their lives, hopes, and dreams for their future. The people there became my family and I will never forget them.
How has this experience helped you grow personally and professionally?
Michaela: This experience changed my whole outlook on life. I did not really know what I wanted to do with my life before volunteering; now I know for sure that I want to teach and help other people. I am planning on going back to school and getting my certificate to teach English as a second language; I hope to be able to teach all over the world.