Volunteer in India with IVHQ from $18/day | Most Affordable & Trusted
View Other Details

Program Details

Timeframe

Short Term

Spring Break

Summer

Winter

Year Round

Housing

Apartment

Guesthouse

Travel Type

Budget

Family

Older Travelers

Solo

Women

Pricing

Price Details

Fully hosted experience from only $250 for 1 week - this includes accommodation, meals, airport pick-up, orientation and 24/7 in-country support.

What's Included

Accommodation

Some Activities

Airport Transfers

Meals

Wifi

What's Not Included

Airfare

Travel Insurance

Visa
93 travelers are looking at this program
Trusted by 124,000+ volunteers, IVHQ offers the world's most popular volunteer programs in India and 50+ destinations around the world.
You can choose from 12 volunteer project options: Childcare, Health, Slum Teaching or Teaching and give back for periods ranging from 1 week to 24 weeks. Your Program Fees include airport pick-up, orientation, accommodation, meals and 24/7 in-country support. You'll be accommodated in local homestay or volunteer house with like-minded, impact-focused travelers from around the world.
IVHQ is trusted to support the meaningful adventures of thousands of volunteers every year, so even before you even, you'll receive outstanding service from your expert Volunteer Program Manager and exclusive access to superior pre-departure training.
If you thrive on fast-paced city life, an abundance of opportunities to grow, exciting experiences at every turn and authentic interactions with local people, volunteering in Delhi is for you.
Program Highlights
IVHQ's India - Delhi program is available year-round, starting on the 1st and 3rd Monday of every month
Highly affordable program fees from $18/day - IVHQ provides the most affordable and top rated programs
Incredible add-ons available, including a Taj Mahal trip and a tour of Goa
You'll be traveling with IVHQ, the volunteer experts, and joining a network of 120,000+ volunteers. Our outstanding safety systems and track record set us apart, we are the world's safest organization
Your efforts will have a positive impact because our programs are community-driven with a focus on supporting long-term local needs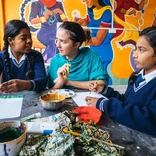 The aim of this project is to provide assistance to childcare centers in India which are often at full capacity due to the high incidences of poverty and illness. These centers are​​ often overcrowded and under resourced with a high demand for volunteer assistance​.
This project is well suited to caring and enthusiastic volunteers, who have an interest in working with children aged 4-8 years old from disadvantaged backgrounds.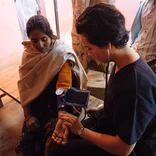 Volunteers on the Health project work in either local hospitals or slum clinics, shadowing well-respected physicians who are passionate about sharing their knowledge and expertise, while offering a valuable insight into the healthcare system of one of the world's fastest growing countries.
Volunteers on the Slum Clinic placement will have the opportunity to perform more hands-on tasks such as treating minor injuries as well as cleaning and bandaging wounds.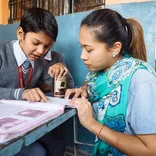 For many children in India, school is simply not an option. It is estimated that there are more than 11 million marginalized and vulnerable street children in India. Many of these children work in the streets with their parents selling goods, foraging and performing to make a living. Volunteers on this project play an important role in providing the children within these communities access to basic education along with new opportunities that they would otherwise been deprived of.