Why did you decide to volunteer with AMIGOS in Panama?
Riley: I decided to become a volunteer with Amigos de las Americas in 2009 after hearing about my friends' positive experiences in Nicaragua and Honduras. In 2008, I participated in a weeklong mission trip to Tijuana, Mexico, and, although this trip opened my eyes to several social justice issues, I was disappointed in the brevity and superficiality of the program. To continue my service learning, I began looking for a summer program that would provide me with an immersion experience—one with a host family, meaningful work, and longer duration. Amigos fulfilled all of these qualifications.
I applied, interviewed, and was accepted into to the program. After months of training and fundraising, I left for Costa Rica—nervous, but excited. I loved my volunteer experience so much that I returned to Amigos as a supervisor in 2011 in Cocle, Panama, to continue building my leadership skills, to learn about Latin American culture, and to get a look the inside workings of a non-profit.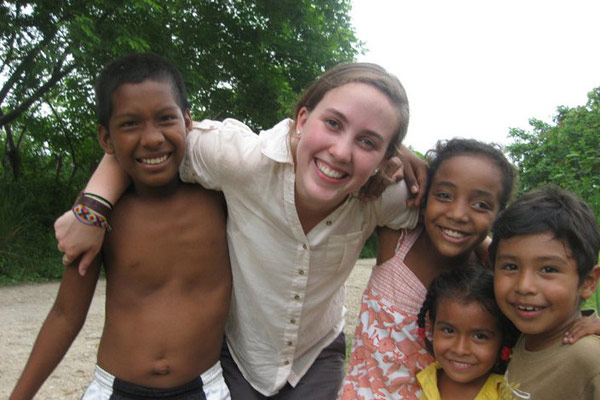 Describe your day to day activities as a volunteer.
Riley: Although every volunteer experience will be different, depending on your community, region, and country, all Amigos volunteers live with host families, teach classes in local schools, and work on community-based initiatives i.e. projects.
For me, every day I would wake up in the room that I shared with one of my host sisters to the sound of roosters. My host mother would serve me breakfast and coffee, and we would chat while she prepared lunch for the day. After, I would help her with chores around the house and then leave to meet up with my two partners. We prepared our lesson plans for the day and would head off to the school to begin our classes on environmental health. We would then go to one of the houses in the community for lunch. During the afternoon, we divided our time between spending time with our host families, meeting new people, playing soccer with youth, going to waterfalls, or learning how to cook traditional meals. The day finished with dinner and usually some quality time playing cards or watching soap operas with our families.
I cannot reiterate enough how welcome I felt with my host family and my community. By being alone in a community, with only weekly visits by our supervisor, I was given the opportunity to connect with locals and form relationships without getting stuck with a group of tourists.
What made this volunteer experience unique and special?
Riley: Volunteering and supervising for Amigos de las Americas is one of the hardest things I have ever done. Leaving my family and friends to enter an unknown territory, with little idea of who my partners would be or where I would be living, required a lot of trust in the directors and leaders of Amigos and in myself. But in the challenges I faced and the obstacles I overcame, as cheesy as it sounds, I did the most learning.
To this day, I talk about my Amigos experience with anyone who will listen and often look back at pictures to relive those summer memories. This program isn't just an opportunity to travel and meet new people, it's about connecting with community members, forming long-lasting relationships, empowering local youth to become volunteers, and making a difference by listening to what community members want and collaborating with them to realize goals and projects. Amigos provides high schoolers with a rare opportunity to step out of their comfort zones, immerse themselves in another culture, and learn a tremendous amount about themselves and those around them.
After volunteers leave the country, they become a part of the Amigos alumni network. I still keep in contact with many people I met through Amigos and run into veteran volunteers on campus all the time. Moreover, volunteers can move on to become supervisors, directors, and other leaders in the Amigos community. This employment opportunity is critical and a benefit not to be overlooked when considering joining the Amigos program.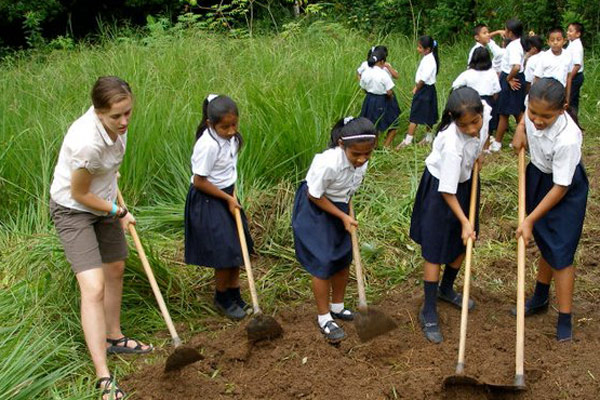 How has this experience helped you grow personally and professionally?
Riley: Amigos has shaped my future in that it has influenced both my personal and career goals. I have grown tremendously through my volunteer and supervising experiences and now view the world in a new way. As a student journalist, I have written several articles about traveling and the Latino community in the US. I have become passionate about immigration and border issues and have spent time working with organizations along the border and in my community. This summer I will be working with an organization that aids families in Oregon who have had family members deported and the knowledge, confidence, conversational skills, and Spanish speaking abilities I harnessed through Amigos will definitely be put to good use.