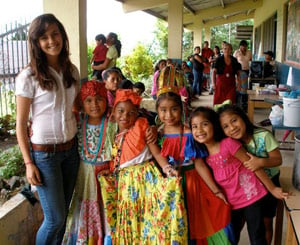 Highlights: One of the best parts of my volunteer experience was teaching at the school. Each grade came with its own challenges and rewards, but the time spent with the kids was well worth it. Our host cousin, Krystelle, was in the first grade when we were teaching at the school, and she loved it when we came to work with her class. There was one week where the theme was "family", so we asked each kid in the first grade class to draw a picture of their families. After they were done they all shared their drawings and Krystelle had taken it upon herself to include my two partners and me into her drawing. It was our second week out of six in the community and she single-handedly made me feel like I had a second home in Cabuya Arriba.
The highlight of my overall experience was watching everyone grow in one way or another. We were only there for a short six weeks, or forty-four days, but we all changed drastically. My partners and I, and even the members of our community, all came out of our shells to work together and create memories none of us will ever forget. The day we all said our teary goodbyes, my partners and I were also planning our trip back to Panama, because none of us could ever imagine leaving behind the second family we have there. The overall highlight is the strong connections we made in another country with another language, another culture, and another people altogether.
Morning: I shared a room with one of the two high school students I was working with, and each morning we would get up before seven, when the roosters stopped crowing, and get ready for the day. Our host grandmother made us breakfast every morning, and while eating we would put together a lesson plan for the class we would be teaching that day and gather the necessary materials for each activity. After breakfast we would help feed the chickens, assist our little host siblings in getting ready for school, and purify our water for the day. Once everything was ready, we would take the twenty-minute hike through the valley to get to the elementary school and begin teaching.
Afternoon: In the late morning and early afternoon we would teach the grade we scheduled for that day. The elementary school went from kindergarten to the sixth grade. We would be finished by 11:45, when recess begun. Usually during recess we would spend time working with the teachers on our community project, or play soccer with the fourth and fifth graders. Once everyone was back in the classrooms, one grade at a time would go eat lunch in the outdoor cafeteria. We ate with the fifth graders, then usually took one or two of the three oldest classes out to work on the school gardens. After we would finish planting or putting a new garden bed together we would head back to the school at about 1:00, and then to one of our houses to hang out, nap, read, and play with the kids when they got home before dinner.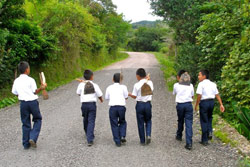 Evening: Once 5:00 rolled around, my two high school partners and I would head out to a new house to eat dinner every evening. We held a community meeting at the beginning of the summer to make a meal plan. Everyone signed up, and we were provided dinner each night. Because we had no map of the community, and because it was spread out across numerous foothills, a community member would come with us every night to take us to dinner. There we would eat, spend time with that family, and make the trek back home.
My partner who lived with me and I would walk back together, and usually stop by one of the fields to play soccer with the community teenagers we were friends with on the way home. Once home we would write in our journals, spend time with our host grandparents, and talk with the rest of our family about life in our community of Cabuya Arriba to get to know everything better. We went to bed at around 9:00, but would sometimes stay up later playing Monopoly with our host cousin when he was back from college.