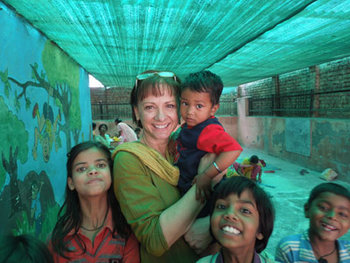 Why did you decide to volunteer with CCS in India?
Marianne: I had researched a number of volunteer organizations and always came back to CCS; they have been in the business longer than most, had more countries to choose from, and provided a host of amenities in their price. I also really liked their mission statement and values; the idea of a true "cultural exchange" appealed to me.
Describe your day to day activities as a volunteer.
Marianne: Placement began by 9 a.m. My assignment was providing health exams to school-aged children (5-12 year olds) at Vidya, an NGO located in one of Delhi's slums. Because of my work, I had a translator with me which gave me additional one-on-one time to get to know some of the staff. I followed the school schedule, including playground time, which afforded me time to interact and have chai with many of the staff at Vidya. My work at Vidya was usually done by noon.
For lunch we gathered as a group, staff and volunteers alike, followed by a brief rest period. Then depending on the day, we'd have either a cultural class or a trip; we practiced Hindi, learned about the various religions, politics and history of the country, or took excursions to temples, market, or museums. We always had top-notch professionals as teachers and guides escorting us.
What made this volunteer experience unique and special?
Marianne: India was a "bucket-list" destination for me. As a child I dreamt of seeing the Taj Mahal (and did!) and later in life as a healthcare professional I viewed volunteering in the slums of Delhi as a personal and career challenge; the healthcare need is so great in India but the healthcare system is incredibly overwhelmed. Being able to provide competent care required a great deal of resourcefulness on my part.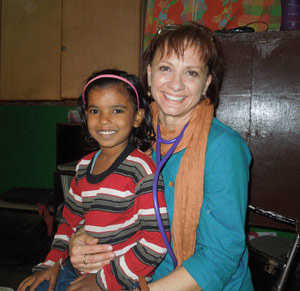 On the flip side, because of the country's conditions, I got to see medical conditions that heretofore I've only read about. It's pretty exciting working with high-risk populations in these challenging environments. Also, as a holistic provider that utilizes integrative medicine, I've been fascinated by India's ancient healing practices and wanted to learn from the source. During my 8 week internship, the staff worked with me to arrange a tour of a private and public hospital, and tutored me in Ayurvedic and indigenous medicines so I could apply relevant cultural health practices to my Western care. The staff's "feedback" loop assured I obtained my objectives and honed my core cultural healthcare competencies.
But what ultimately made this experience unique and special were the people. Yes, CCS staff was professional but they were also warm, friendly, and exceptionally hospitable and made me feel like family. My fellow volunteers also made a huge contribution to the overall experience. I made deep friendships with some incredible individuals that I will always cherish.
How has this experience helped you grow personally and professionally?
Marianne: Thanks to the positive experience working with the people of India, I've made the decision to do international healthcare work. This trip validated my desire to be a citizen of the world. I'm currently in the process of organizing a worldwide trip in 2013 to find the best "fit" for my skills and interests and plan on spending 3-5 years abroad, hopefully in India or Southeast Asia.