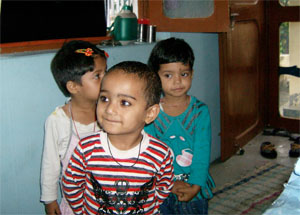 Morning: Each day, the other health care volunteers and I traveled to different villages in the area to conduct basic health screenings on the children who attended local government-run daycares (anganwadis). We worked with a translator, who was a student about our age who lived in the area, and collected information on the height and weight of the children and other markers of health status. We also occasionally met with village women's groups to present health education modules that we put together on topics such as nutrition and sexually transmitted diseases. Traveling to different villages each day allowed us to see a lot of the beautiful mountain scenery as well!
Afternoon: My afternoons consisted of a variety of activities, including preparation for the next day's work, cultural enrichment activities (such as speakers, field trips, and Hindi language lessons), or hanging out and playing badminton with the staff and other volunteers. I usually spent some time each afternoon working on a special project I had proposed: digitizing the information we were collecting from the daycares.
In addition, I would write in my placement journal (one of the requirements of my internship) about the morning's activities, reflecting on things I had learned and noting down my ideas for the coming days. The CCS staff provided me with a lot of information about India's health system, which I was particularly interested in, so I also spent some time reading up on that topic.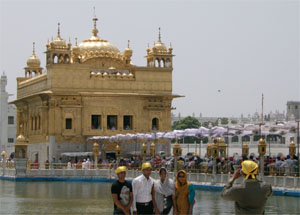 Evening: I was living in a very rural area, so there weren't really opportunities to go out at night, but we generally enjoyed ourselves watching Bollywood movies, playing games, listening to Hindi songs, or just chatting with one another. There were a lot of people of diverse backgrounds and interests in my program, and the evenings were a great time to get to know them better.
Highlights: The highlight of my time as a volunteer was presenting to women's groups and talking to them about health issues. Hearing their ideas was really eye-opening. For the women that I talked to in the villages, health and sickness were individualized issues. Their personal aches and pains--rather than community-level issues such as sanitation--were at the forefront of their mind when they thought about the idea of "health." These conversations added the depth of practical perspective to my theoretical notions about health policy.
The highlight of my trip overall was probably my visit to Amritsar. I got to see the Golden Temple, Jallianwala Bagh (the site of a colonial-era massacre), and the ceremony at the Wagah Border between India and Pakistan--a really fascinating and exciting display of Indian patriotism.