What is your role at Cross-Cultural Solutions? What do you most enjoy about it?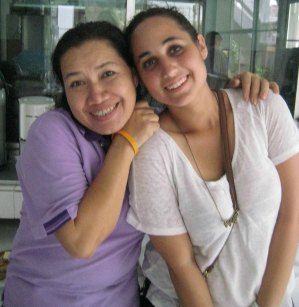 Taylor: I'm a Program Advisor at Cross-Cultural Solutions. I get to speak with those who are interested in volunteering abroad! I help potential volunteers decide on what program is the best fit for them by providing any details needed and by discussing the overall international volunteering experience pre-enrollment. We communicate through many forums such as in-person meetings, phone, email and live chat.
What I enjoy most is speaking with so many interesting people from all over the world who have similar passions as me. My first program was so life-changing, so I love that I can help others in their own personal journey to something great!
Where have you volunteered abroad recently?
Taylor: I most recently volunteered in Bangkok, Thailand which was always my dream destination! I worked at a school for students with disabilities which was really rewarding. I mostly taught basic English and swimming as a form of therapy. However, the most important thing was forming deeper connections with the students and providing them with individual attention, as the school was a bit understaffed.
It was amazing to see the children progress in their social interactions day after day! The staff were thankful to have us there, and they quickly began to feel like old friends. So exploring Bangkok with members of the local community, visiting their homes and meeting their families, really allowed me to have such a unique and insider prospective to a culture I love.
What was one of the most memorable moments of that experience?
Taylor: I remember seeing Wat Arun, or the Temple of Dawn on the Travel Channel when I was young; that and my interest in Buddhism is what sparked my initial interest in Thailand. So climbing up the stairs of that beautiful temple with fellow CCS volunteers and staff was something that was so memorable. At that moment, I really felt like I was finally achieving a life-long dream.
The in-country CCS staff are incredible and really go the extra mile for volunteers. Knowing about my interest in Buddhism, they set up a meeting with a Buddhist monk. I got to sit with him for an hour and we discussed everything from our childhoods to the meaning of life. It was an unreal moment. I felt my impact most when a teacher that I'd been volunteering with told me that over the course of my time there, I had completely changed the attitude of a young girl who was having trouble. The one-on-one attention I was able to give her, helped her find some happiness and motivated her to do well!
What are your top insights or tips for first-time volunteers?
Taylor: My top insight is to try everything! Without an open-mind, I wouldn't have tasted some of the best food ever and I certainly wouldn't have made new life-long friends. Bring a charger for your camera, but don't forget to take it all in while capturing the moments!