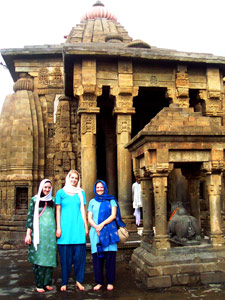 Morning: Every morning in Dharamsala a yoga instructor came to the main house and about an hour of yoga was offered. This was a great way to start the day! After yoga was time for breakfast. Some days we walked over to the main dining area for a hot meal that differed every day, sometimes continental and sometimes traditional Indian, with cereal and fruit always offered. Other, lazy, days I would make myself some eggs and toast in the small kitchen open to volunteers. The one non-negotiable in the morning was at least one cup of masala chai!
After breakfast we would finish getting ready and congregate in the main house to be driven to the volunteer placements. I was the only one fortunate enough to have my women's group placement at the main CCS house, so my commute was only down a few flights of stairs.
Afternoon: Volunteer placements would typically run into the afternoon. I would spend a few hours with my women's group until lunchtime. This involved teaching English grammar, computer skills, and general conversation skills (with the occasional zumba lesson). Once all the volunteers arrived home from their various placements, we congregated again in the main dining area for lunch. All food was served buffet-style with plenty of vegetarian options. We were always made aware of what would be served for each meal in a week so there were no surprises. After lunch it varied – sometimes we had a Hindi language lesson, sometimes a cultural learning program or field trip, and sometimes we had free time and took walks around our neighborhood of Lower Dharamsala.
Evening: Evenings were spent with the other volunteers. When the weather was nice we would sit out on one of the huge balconies and look out at our Himalayan surroundings. We would watch movies, play games, and read books. Often we would call a cab to take us to Upper Dharamsala, or Mcleodganj, which was a tourist hot-spot and had many shops and restaurants. We would grab an inexpensive bite to eat, often on the rooftop of my favorite restaurant called Carpe Diem, and do some shopping or socialize with other tourists in the area. There is also great hiking in the area and yoga, cooking (Tibetan and Indian), and language classes are offered quite often. Upper Dharamsala is the location of the Tibetan government-in-exile and is home to a large Tibetan population, so I got to learn a lot about both Indian and Tibetan culture.
Highlights: The highlight of my volunteer experience was getting to know the experiences of the women in my group. We would often have very open and honest discussions about what it was like to be a woman on opposite sides of the world. They shared with us so much about themselves, the good and the bad, and asked us to do the same. It made me so glad to see and hear how proud they were to be Indian women, wives, and mothers. They were so proud to share their culture and customs with us, and eager to learn about ours as well. Learning English was an important tool in empowering them to feel that they could get a job if they wanted or needed, and that they could communicate with more people to continue this cultural exchange outside of the classroom. I loved teaching them zumba routines, and I think they got a kick out of it!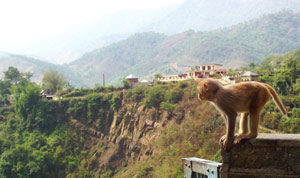 The highlight of my experience overall is hard to pinpoint, but I would have to say the location. I am a sucker for beautiful sights and my mouth was hanging open for a month. Getting to live and work in the Himalayas was something most people never get to experience – it felt completely unreal to sip chai on my balcony in the morning looking out at the snow-caps of the Himalayas. Taking a weekend trip to Manali, I did nothing on the several hour car ride but look out the window. I have never seen such natural beauty in my life and never expected it to be half as breathtaking. I felt so fortunate to have spent so much time in a place like this, and go back to it in my mind countless times when I need a 'happy place'. I would gladly return tomorrow if I had the opportunity.