Why did you decide to volunteer with Volunteering Solutions in Ghana?
Assumpta: I was thinking about voluntary work in Africa and I found Volunteering Solutions web page very helpful. I sent some emails asking for more information and they replied quickly. The staff if very friendly and always help you. When I was deciding my destination and my program, I felt very supported by Volunteering Solutions.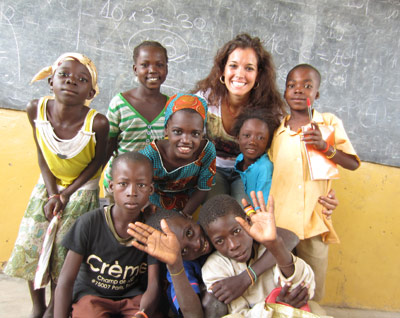 What made this volunteer abroad experience unique and special?
Assumpta: I woke up at 6.30 am from Monday to Friday. I had my breakfast with the other volunteers and the host family and I got ready to start my day.
At 8.30 am, I was in the orphanage. I had a class with 8 children and I had to teach them English and Maths. From 8.30am until 10 am, we did English, and from 10.30 am until 12 am we did Maths. After morning work, I went to town (Tamale) to eat something with the other volunteers and, after lunch, we could decide what we wanted to do (with Volunteering Solutions, you join to the morning program and you can decide what you wanna do in the afternoons!).
Most of days I went to a Babies Orphanage to play with children and bath and feed them. At 6 pm, I finished my work. I went to my house to relax, take my shower, have dinner... and after that, we spent sometime talking and enjoying ourselves with VS staff, before we went to bed.
What made this volunteer abroad experience unique and special?
Assumpta: What made my experience unique and special was, clearly, Ghanaian people. They are so friendly, the nicest people I've ever met. They welcome you and they're always willing to make your stay enjoyable. And of course, the children I worked with was delightful. It was so easy to teach them because they have a perfect attitude in class and they are always ready to learn from you. If you are ready to learn from them, sure you will enjoy the experience!
What advice do you have for future volunteers?
Assumpta: The best advice for future volunteers is to encourage them to live the experience. They won't regret it! And an advice about Ghana: Ghana is not like your home country. Their culture, their food and their way of living is sure completely different than you're used to. In Ghana there is no time, maybe you will be always late or maybe they say "wait 10 minutes" and you have to wait 40 minutes instead. So, take it easy, and I guarantee that if you go with an open mind, you will have no problems there!
How has this experience impacted your future? (Personally, professionally, etc)
Assumpta: This experience has changed my outlook on life. The problems (or what I used to call "problems") become anecdotes in my life. I'm a happier person, because I can always remember all the smiles Ghanaian people shared with me. And of course, I think I'm a better person now, I like people more, I'm more generous and more grateful, and I learned to appreciate everything I have.