Why did you decide to volunteer abroad with GVI in Mexico?
Emily: I imagine like most people looking into this kind of experience I trawled the internet pretty indiscriminately when seeking a program. I knew I wanted a program that was marine ecology focused, specifically I was hoping to gain valuable field experience I could add to my resume. I don't really know at what point I stumbled upon GVI but I was really impressed by the number of programs (in many countries and many disciplines) that they offer. Of the opportunities I was able to discover that are marine based, GVI was one of the only I found that really seemed to be focusing on getting volunteers involved in collecting data to monitor the reef.
As far as picking Mexico over other destinations it was somewhat arbitrary. I would love to travel to the Seychelles or Fiji (other GVI programs) but the initial flight to Mexico was less costly than those other flights, my Spanish is little rusty but I did take it in school, and ultimately Mexico was a nice starting point to explore a bit of the rest of Central America (Belize, Guatemala)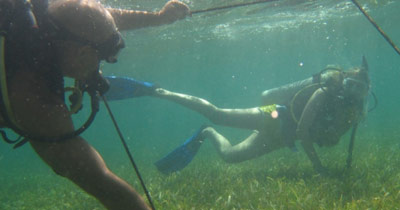 Describe your day to day activities as a volunteer.
Emily: Each day starts out with every hut of volunteers completing their rotating chores before breakfast. Some people, and I was occasionally numbered among them, get up before starting chores to make themselves a cup of Nescafe or go for an early run along the beach. As the sun rises over the ocean, you and your hut are either raking the grounds, loading the boats with fuel and equipment, cleaning the common areas including toilets, or getting breakfast ready.
Most chores have additional tasks that need to be completed throughout the day to ensure the base runs smoothly. The most obvious of which is that kitchen crew is responsible for all of the meals throughout the day. Breakfast which is either porridge, cereal or eggs (also a rotating schedule) wraps up and everyone dashes out the beach to push the boats into the water. There really is nothing like heaving a boat along the shore to wake you up in the morning.
Then the first 'wave' of divers heads out. From then on, your schedule could be somewhat variable but will follow this general trend. If you are not diving you will be either getting ready to dive or just returned from a dive (most people get 2 dives per day weather permitting). Otherwise you are operating the compressor to provide everyone with tanks, manning the radio, studying fish or coral, working on PADI coursework, relaxing in the hammock and enjoying meals prepared by your peers.
As the sun sets everyone gathers on the beach again to push the boats back on shore. At the end of each day there's a briefing for the next, usually a debrief of the day's diving with your divemaster. Everyone relaxes and socializes in the common area for a while then trickle off to their huts to sleep before another busy day.
How did this experience impact your academic development?
Emily: It was a great experience. The monitoring protocols that the amazing staff at GVI teach are to the highest standards of an international effort to monitor the reef. Unfortunately, owing to weather and limited time I did not actually get to collect any data for their ongoing monitoring projects, but I did get a good idea of what that work entails and a solid start at identifying both juvenile and adult common reef fish. I am inspired to pursue further PADI coursework to become a divemaster myself, though admittedly the waters off Santa Cruz, CA where I currently reside are positively frigid compared to Mexico.
In the future I would like to continue my formal education probably in marine sciences and feel that my time with GVI was well spent in supporting that goal. Personally, it was extremely rewarding to spend time with individuals from all over the world in a remote tropical locale. Some of the folks I consider to be my very good friends I hope to see more of them in the future when our paths cross again.