Why did you decide to volunteer with Livnot U'lehibanot in Israel?
Robyn: I decided to volunteer abroad with Livnot in Israel because it seemed to be everything I was looking for. Although I was raised Jewish, I never had been to Israel and I was looking to establish a closer connection to my faith - not necessarily to become more religious, but to become more informed. I was also looking for spiritual engagement.
In addition to the religious aspects of the program and going to Israel, Livnot appealed to me because it also had a community service component as well as an outdoor hiking component. I love adventures, and Livnot not only looked like it would provide an educational and spiritual experience, it looked like it would give an exciting and active experience as well.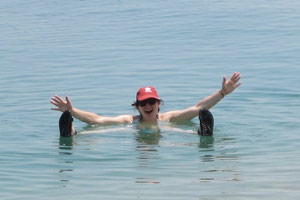 Describe your day to day activities as a volunteer.
Robyn: Our day-to-day activities as volunteers involved getting up for 7am breakfast (I think it was 7 - either way it was early!) which some of the chevre would sign up to make each morning, after which we would watch the morning news together. Then we would get all of our things together for a morning of volunteering - usually we were at the citadel, weeding and fixing up old stone walls, so we had to wear long pants, sunscreen, hats, and bring plenty of water.
After volunteering for several hours, usually with a picnic lunch at some point, we returned to the Livnot campus for showers and naps, and then in the afternoon we would have an educational activity. On days we went hiking, we would get up equally early and then take a chartered bus to our hiking location, led by our wonderful guide Michael.
How has this experience helped you grow personally and professionally?
Robyn: This experience made me fall in love with I'm pretty sure part of my heart is still The people I met on this trip are people I will remember for a lifetime. My love for Judaism was also rekindled by Livnot, and although I have not become more religious, I feel quite spiritually affected by my experiences in Israel. I know more about my faith, I am more comfortable asking questions about my faith, and I was able to go on adventures of a lifetime. I don't know what more anyone could want!