Why did you decide to volunteer with Livnot U'lehibanot in Israel?
Gabrielle: I actually happened to find Livnot by luck. When participating in Taglit Birthright with my University, we spent one day at Livnot doing community and I knew that I needed to be apart of their program. It seemed like an environment that I always wanted to be in, people were playing all different types of instruments and everyone was helping to prepare food together.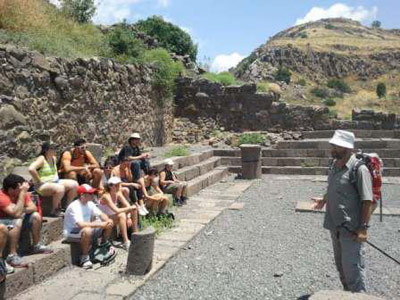 Describe your day to day activities as a volunteer.
Gabrielle: A typical day would begin by helping to prepare breakfast for everyone before beginning our community service work for the day. We would help by excavating the 16th century of Tzfat, painting different places in the city, and helping locals with their stores. Other days we would focus on these INCREDIBLE hikes that were very challenging but unbelievable.
We would return to campus and have thought-provoking discussions on so many different topics that are so relevant but rarely discussed. After cooking and eating dinner together we would have free time to explore the city and meet locals or hang around the campus and play music and relax.
What made this volunteer experience unique and special?
Gabrielle: The sense of community that I felt when arriving made this experience so special. I arrived at Livnot U'lehibanot not knowing a single person or speaking a word of Hebrew and ended up making so many friends and leaving wanting to learn more about the spirituality of Judaism and continuing to search for my Jewish identity. I was only supposed to stay at Livnot for one week and I extended my trip THREE TIMES and ended up staying FOUR WEEKS! I still am in contact with everyone I have met and will always remember Livnot U'Lehibanot for challenging myself and allowing myself to appreciate the beauty in so many things. RADICAL AMAZEMENT!
How has this experience helped you grow personally and professionally?
Gabrielle: This program introduced me to the mystical city of Tzfat which I plan on returning to. I continue to search for communities locally that I could become involved in similar to Livnot.