Why did you decide to volunteer with Livnot U'lehibanot in Israel?
Rob: My volunteer experience was born out of mid-life (quarter-life?) crisis; I decided that I had enough with my job, life, etc., and booked a one way ticket out of the United States last spring. Israel was supposed to be a week-long adventure among many (in fact, I arrived there from South America, and had planned to continue on to southeast Asia).
However, I did not anticipate falling in love with Livnot. The entire program was designed perfectly for my needs- organized, but with no strict beginning and end dates (in that you could easily leave or extend your stay at any time); balanced (good mix of structured activities, community service, and leisure time); and inexpensive.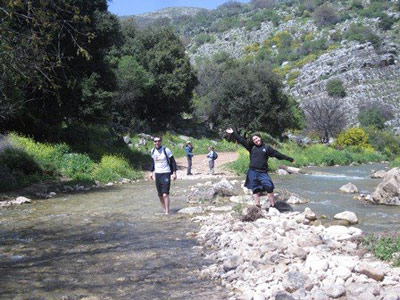 Describe your day to day activities as a volunteer.
Rob: The day to day activity generally consisted of one of two main events- community service or an outdoor hike/adventure. During service days, small groups departed for various projects including immigrant absorption, construction, landscaping, and event staffing. Almost every day, volunteers were granted free time to explore the city and surrounding areas or simply relax.
What made this volunteer experience unique and special?
Rob: More than anything else, Livnot was unique (at least to me) in its ability to provide its volunteers a true experience of community integration. The relationship they have with their hometown is both strong and deep, and all volunteers become a part of the communal "family" regardless of length of stay. I ended up staying at Livnot for an entire month, and to this day I still keep in touch with friends I met there as much as those I've known my whole life. In fact, I attended both a funeral and a wedding during my stay there (after becoming close with both families).
How has this experience helped you grow personally and professionally?
Rob: The trip simply reaffirmed deeply held beliefs of mine regarding community service- that the term volunteer is misused, since it is every person's duty as human beings to give back to their community, their country, and the planet as a whole. Many people, especially in America, are born into an environment that other would kill for; it is only fitting that we make sure those that come after us can benefit as well. This continues to be a tenet of my lifestyle, and since returning from Livnot I have increased my personal contribution to a local youth development program- not necessarily through financial support, but through my physical presence.