Why did you decide to volunteer abroad with UBELONG in Cambodia?
Erin: I knew I wanted to travel and volunteer, but I didn't know what country or what program, so I did a lot of online research. I looked into many different volunteer programs in various countries, but all of my searching stopped when I found UBELONG. I was planning on taking this trip by myself, not with a group of friends, so I wanted to find an organization that wouldn't just take my money and drop me off somewhere. Through UBELONG's Facebook page, I was able to contact alumni volunteers and ask more detailed questions about their experiences. I found another female volunteer who went to Cambodia by herself through UBELONG, and she eased all of my nerves. That night I sent my application to UBELONG.
UBELONG'S website was very helpful in the fact that each project was described in detail, with location, job responsibilities, timeline, and prices. Along with the flexibility of when you can start your program, UBELONG was the most affordable for that length of stay – which included transportation from the airport upon my arrival, and room and board. After being accepted into the program, I realized that UBELONG was more than just a volunteer program, it was a family. I was assigned a mentor as soon as I joined. He answered all of my questions in detail and he even took the time to hold a Skype session with me to go over the final details before I left.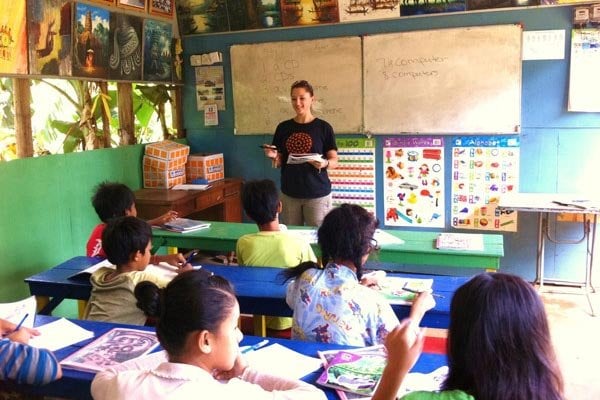 Describe your day to day activities as a volunteer.
Erin: I stayed at a volunteer house in Phnom Penh with about 20 other volunteers, who were volunteering at different orphanages and NGOs in or near the city. Each morning, I would wake up early with the other volunteers, eat breakfast, which was prepared by workers of the house, and head to my orphanage which was about 30 minutes away. I asked to be placed in an orphanage outside of the city, and that is exactly what I got.
I worked at the orphanage Monday through Friday from about 8:00 a.m. to 4:00 p.m. In the morning I played with the younger children, entertaining them with arts and crafts or reading books with them. I ate lunch at the orphanage every day with the children and then taught English in the afternoon to the older children.
All of the volunteers had weekends off from volunteering, and that was when most of us would go sightseeing and spend time getting to know each other. I am still in contact with some of the volunteers that I met while I volunteered.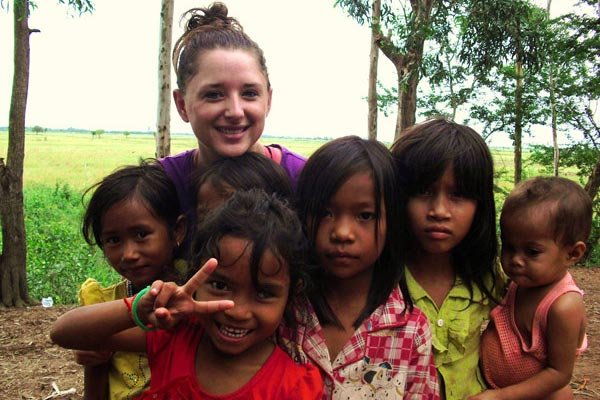 How has this experience helped you grow personally and professionally?
Erin: This trip changed my life. I have always loved to travel, but this trip gave me the opportunity to travel, help the less fortunate, see the country through the citizen's eyes, not a tourist, and grow personally all at the same time. Soon after I arrived, I realized how much I have taken for granted in my life. The children who I cared for were so warm and affectionate, from the first moment that I met them. They have so little, sometimes wearing the same clothes for a week, but they were happy that I was there spending time with them. They were truly a family at the orphanage and supported each other every day.
I was a single female traveling by myself to a developing country that was still in the process of rebuilding. It was somewhat intimidating and a little scary, but it was also exciting. I definitely became a stronger, more confident woman on this trip. Knowing that I was able to travel on my own to a country that I knew very little about has created a strong confidence in me. I broke through language and cultural barriers, and was able to develop long lasting friendships with people from all over the world who I know I will stay in contact with.
Professionally, I work full-time at a very fast-paced job. This experience has put things into perspective for me, teaching me not to "sweat the small stuff." The little things are just that - the little things, and small irritations are just small irritations. In the end, they don't mean a whole lot when you think about these kids and what they have gone through. It is because of this trip, my new found confidence in traveling alone and my experience with UBELONG that I have made a vow to myself to volunteer abroad every few years.