Morning: My morning began watching the sunrise from my room on the 4th floor of Tattoo Guesthouse. I had early breakfast along with other volunteers who had their schedule similar to mine, then go by bike to my work which was only 15 min away. I taught English to three different grades from 8 in the morning to 11 am at a school for vulnerable children.
Afternoon: Generally there are two class times, morning and afternoon, so at 11 am when the morning classes finished I went back to the Guest House to have lunch. There I met some volunteers who had food break also. I used part of my lunch break to plan the following classes with my co-worker and have everything ready on time. Around 3 pm I would take my bike and head to the Orphanage for children with HIV. I helped them with their English homework and then we would spend the time playing and doing crafts.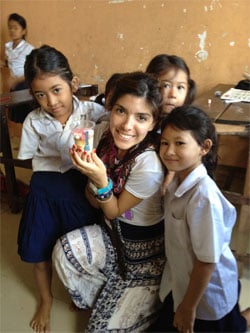 Evening: At night you could do everything. From socializing with the other volunteers, have dinner and watch movies in the guest house, go to the stadium to exercise with other local people, or try out different places and restaurants. Phnom Penh is full of activities, so it's never boring!
Highlights: It was amazing! What most concerned me was the language barrier, but after a while I decided to stop worrying and start enjoying it, so that is how I found out a smile says it all, and it can take you everywhere!
With all of the daily life challenges, satisfactions and emotions, I can honestly say I enjoyed every second in the school and in the orphanage, and I can´t wait to go back to repeat that experience!
Never... never thought of traveling alone to Asia, so far away from home, Mexico. At first you have all kinds of feelings and doubts and I kept wondering if what I was doing was the right thing to do or just a temporary madness. I can´t be more pleased to have taken this decision and have taken the road to Cambodia. All these fears and insecurities that we all have at first, disappear once you get to know the people and when you get into the culture. Best time of my life !