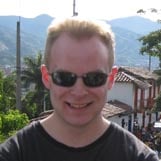 Why did you decide to intern abroad with Intern Latin America?
Erik: During my studies at Pomona College in Southern California I had my first real glimpse both of the richness of Latin American culture but also the ways in which it seemed to be misunderstood in the United States. When I moved to New York I therefore became involved with an organization whose mission was to promote the true depth and beauty of Latin music and culture in the US while also furthering the role of the arts in education and society.
Over the years with them I came to know many people from across the continent and began reading more about the many important changes that are currently underway in that part of the world. Eventually I knew beyond any doubt that this was where I wanted to focus, and business school was very much a means to that end. Before enrolling I took off for a four-month trip from Mexico City down to Buenos Aires to get a better sense of the different cities on the human level; it was basically 'the Motorcycle Diaries' except with a pre-Harvard Business School angle instead of socialism. I was going in cold – in most of the cities I didn't know anybody and in a way that was the point; I needed to see which places I could see myself living in for a while and I wanted to force myself to get to know people across all elements of society. Needless to say there were many incredible moments ranging from horseback riding in cattle ranches outside Guadalajara to tango lessons in Buenos Aires but Colombia ended up being the one that stuck with me the most.
I spoke with many fascinating people and organizations during my subsequent search for a summer internship but I really fell in love with Medellin (generally regarded as one of the most beautiful and entrepreneurial cities in South America) and also with a particular company there that serves as Colombia's oldest business incubator and that launched one of its first dedicated venture capital funds. I'd also really loved speaking with the main people behind Intern Latin America and there was a huge appeal to joining this international team of young people who were working very hard to promote global experience and awareness as well as Latin America's place in the global economy. It's very much a network that will come to include a highly diverse group of globally-minded people in many different parts of the world, so getting to know the people behind it became a part of the overall reason for going as opposed to simply a means to get into Colombia.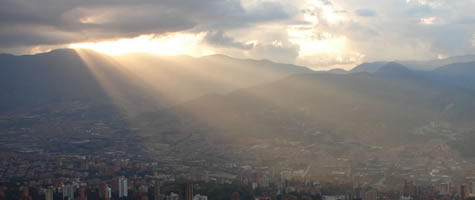 Describe your day to day activities as an intern in Colombia.
Erik: Wake up, drink lots of Colombian coffee while listening to my favorite Colombian dance songs, take the bus to the office (watching the city wake up is like being in the middle of a giant science experiment – sky-trams going up the mountains, mechanical trees that filter the air and lecture you on global warming, sleek new shopping centers with retractable domes and new open space cultural venues to take advantage of the perfect weather) and then the day would tend to be divided between working with the different teams of entrepreneurs on their business plans and the venture capital people on the financing elements. Occasionally attend investor forum which was always attended by many of the city's most interesting business leaders. Venture out into the chaotic streets of 'el Centro' to find lunch and ask yourself yet again why the country with some of the most amazing biodiversity on earth tends to focus so much on meat and cheese, take the bus home and work out in the open-air gym (City of Eternal Spring – roofs tend to be optional), eat dinner and promise yourself you'll definitely get around to cleaning your apartment tomorrow, meet some of the other interns and ILA staff for drinks or salsa dancing, drag yourself home while trying not to pass out and promising yourself that you'll never leave South America for too long at a time.
What made this experience unique and special?
Erik: I'm sure everyone answer with 'the people' on this and of course I did meet many people with whom I have no doubt I'll be friends for the rest of our lives, but the other main thing I would want to highlight is that this was one of the few opportunities in life to feel that you're really facing the unknown. I'd had a very fortunate life that included a great deal of travel and now an institution like HBS but this was on a different level – I would be doing a new type of work in a new country while speaking a new language, and for the first time in my life I truly had no clue how it would all turn out or how well I would manage to rise to the occasion.
It's of course an intimidating thought but you don't quite realize until it happens how much it deepens the feeling of being alive. To those who are still debating whether to embark on an adventure with ILA or to take whatever the safer option might be, I like to use what I call 'the deathbed test' for decisions like this. We are afforded just a few precious hours to explore this planet, and far more than we would like to think a lot of these questions really do come down to what we would be on our deathbed wishing we'd done differently – will you wish you'd stayed at home and taken the internship in the city you already knew or that you'd ventured out to find out what a new country has to tell you about the world and yourself. The best parts of travel are often the most transient – the announcement of the new city as the plane lands, your first morning waking up in the new place and meeting new people for the first time, and as long as the process holds that element of discovery I don't think the final destination is ever really the point.
How has this experience impacted your future?
Erik: The reason I went in the first place was that I'd already fallen in love with Colombia and knew I wanted to focus on South America overall, but there's really no comparison between my overall sense of the place, my personal connections with it and my comfort in speaking Spanish after I'd left and what they'd been three months earlier. The people I met would certainly be the most critical – if you want any chance of working in a different country (especially an emerging market) in any meaningful way then you have to develop a sincere personal connection with different people there, and not just those who are helping to lead the place.
There are always lots of wonderful books you can read and information you can access through the internet but you'll never quite realize how much really lies beneath all that until you've been there and connected to the place on a human level. Ultimately you can only do so much with a few months and needless to say it flew by far too quickly, but it does show you how much you can do with the rest of the time that comes afterward. Traveling is very much a microcosm of life – you arrive, you look around, but then far too quickly it's time to move on. It's a beautiful process but with an inevitable whiff of mortality to it, but you then hope it makes you view the world around you and your approach to your time in it in a different way.
My friends make fun of me for not being the most overtly emotional person in the world (combination of Scandinavian heritage and New England upbringing is pretty tough on that front) and it's true that no place I'd ever lived in or traveled to had ever reduced me to tears once it was time to leave. But I very much remember writing my final Facebook post a few weeks ago on the night before I would be flying back to Boston - "Goodnight, Colombia – you have officially made history."